ACTIVE LEARNING
PREMIUM PLUS
LEARN ILLUSTRATOR
We need a little more structure and organization to our Tutorials, Challenges and Workflows. These breakout Sessions and Workflow Pages are to give you a Curriculum Path based on the Workflow that is best suited for your artwork. Everything will still be in our Linear Workflow format, but it will be organized by the Tool-Based Linear Workflow.
ACTIVE LEARNING
Premium Plus is our Active Learning Course Content (step by steps) that follows along to our Linear Workflow Model. Our Active Learning is designed to give you time in the program to advanced through our Learning Phases from Learning the Program to Creating your Own Artwork.
LEARNING TARGETS
We have different Learning Targets as you do more step by step Tutorials. We focus a lot of attention on our Build Mode and the overall structure so you can modify for any subject matter or design solution. The links below will cover the Learning Targets for the 9-15 Hours in Each Tool-Based Workflow.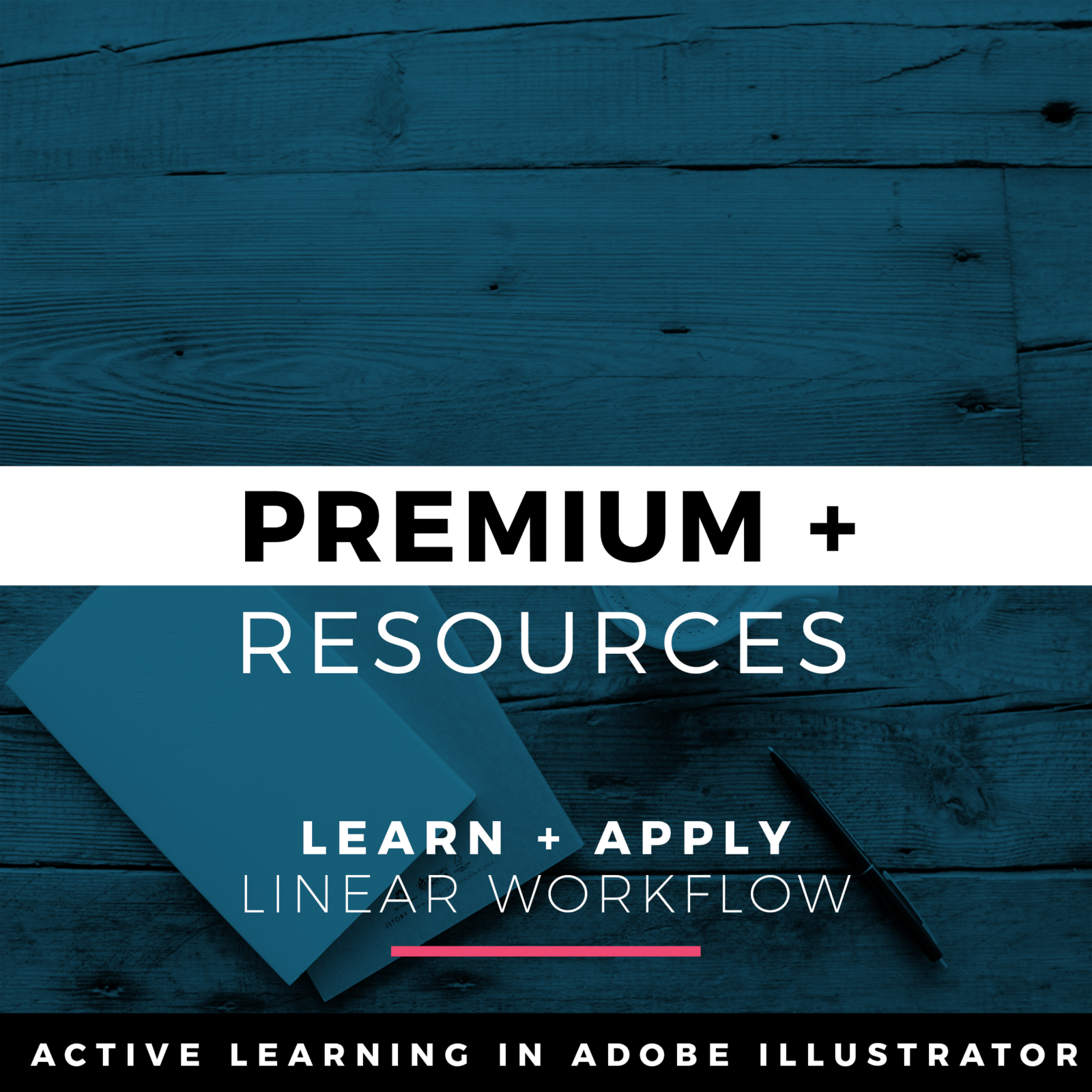 LEARN
Active Learning is our step by step format. This is for those of you who like to "Learn by Doing". We have 100+ Step by Step Tutorials in Premium Plus which is getting close to 100 Hours on our Members site.
APPLY + PRACTICE
We have between 9-15 Hours of content in each of our Tool-Based Workflows. This is so you can not only Learn the Workflow, but also go through all the way through our Growth Models of Learn + Practice + Create.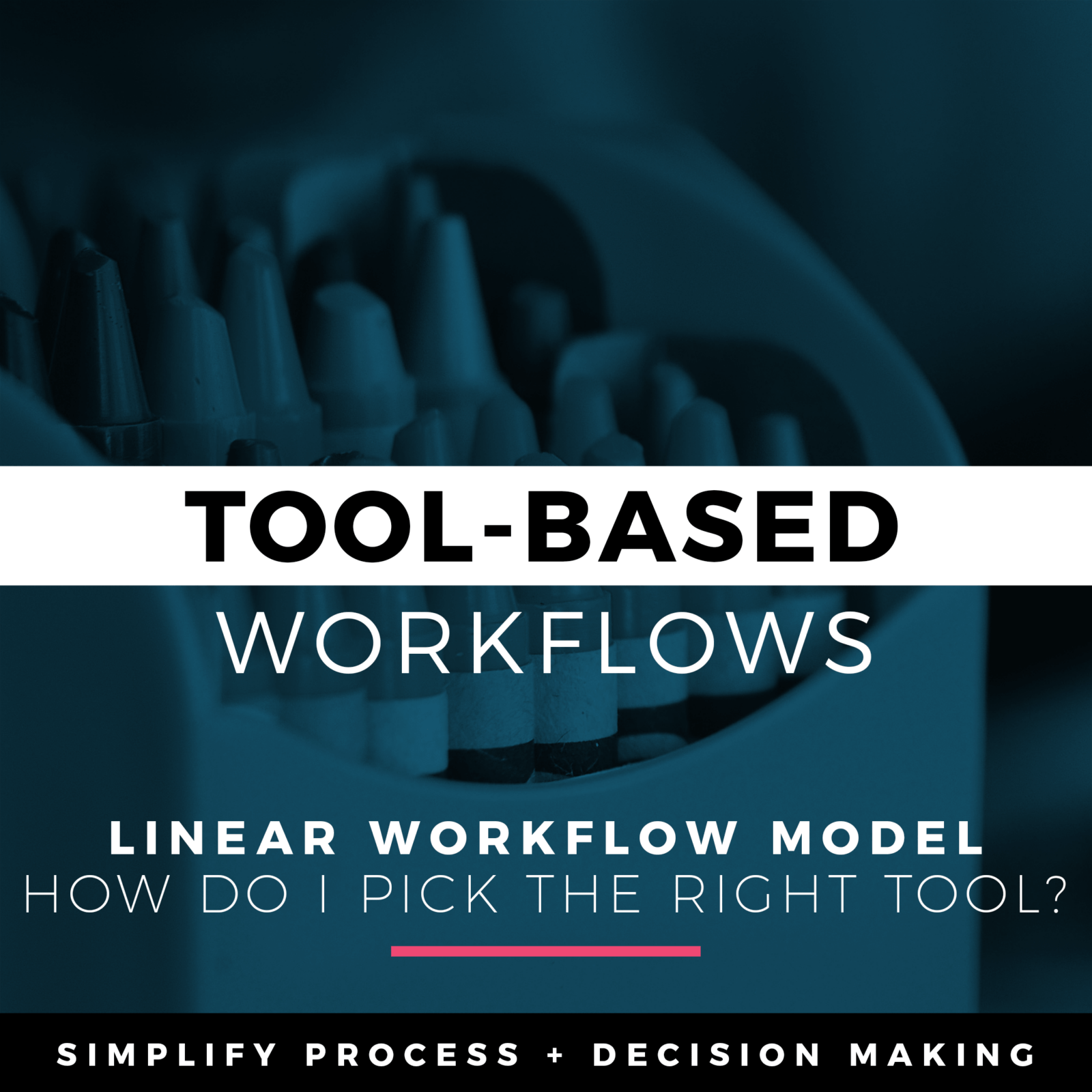 PEN TOOL
Pen Tool is the pretty much the primary tool in Adobe Illustrator. Select Pen Tool if you are New or if you need more Control over your Anchors.
BLOB BRUSH
Blob Brush is our Efficiency Workflow for Line-Based Artwork. Select Brush if you have a Tablet and are looking to add on Pressure.
PENCIL TOOL
Pencil Tool is one of the easiest ways of learning Adobe Illustrator. Select Pencil Tool if you are New and have a Tablet.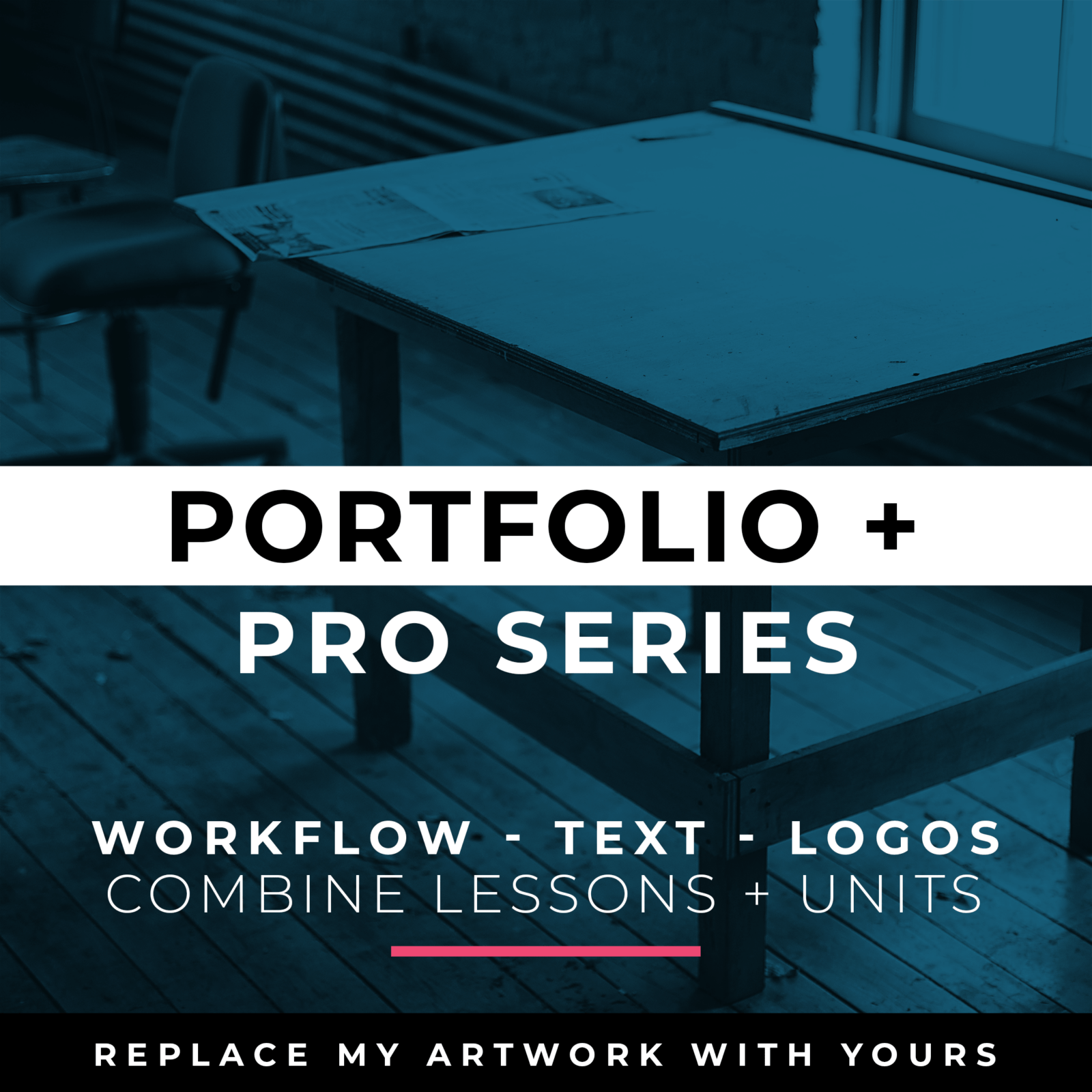 DRAWING / TRACING
Since the start of the year, we have been going off of more photos and doing the prep work from scratch. This is so you can put the drawing or trace in your own hand or style.
FONT-BASED DESIGNS
I am looking for some non-drawing based solutions for those of you who have been asking for more options. Fonts, Type + Text allows everyone select the fonts that best match their own style right away.
SHAPE-BASED DESIGNS
I want you to start combining multiple lessons together from your own Drawing + Building in a Tool-Based Workflow + Adding Text + Finishing in a Shape-Based Design.
The idea behind all of our Active Learning is to have this be as close to an in-class experience as possible. Sitting down and doing the Art is Fun. Listening to someone else talk about art on the internet = Not Fun. Premium+ is where we are posting all of our new step by step by step content.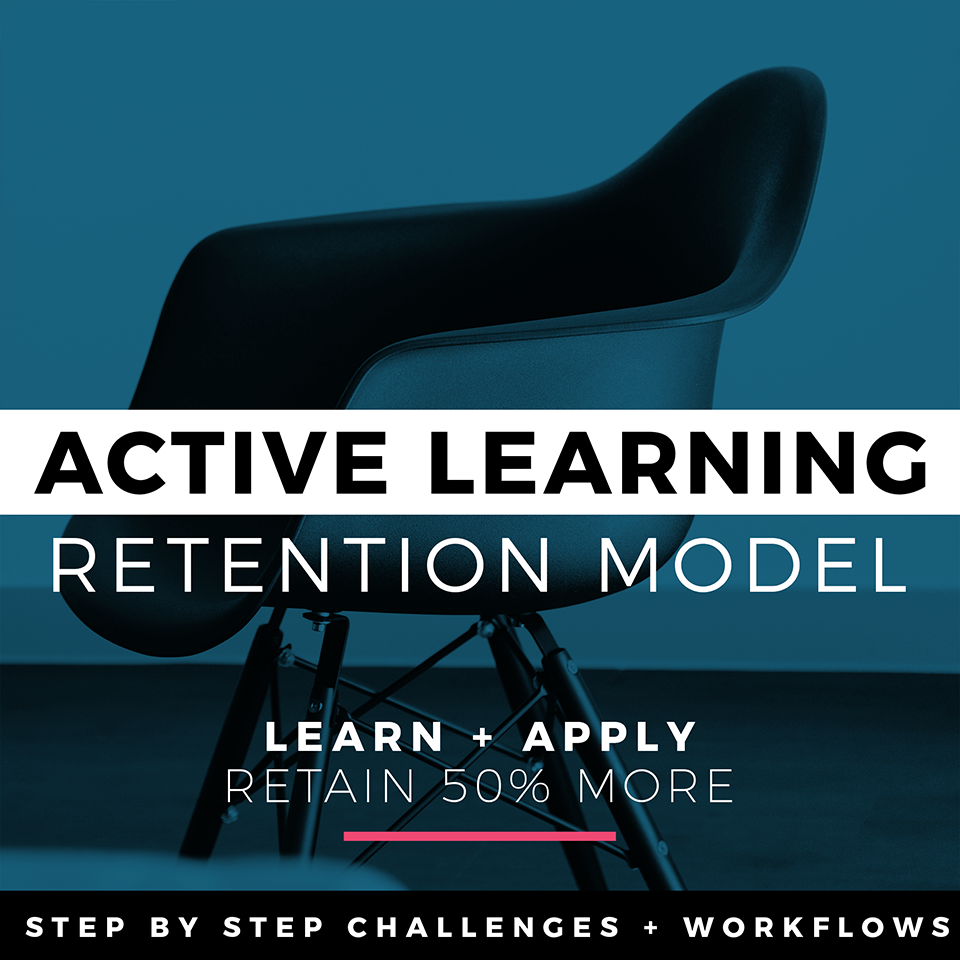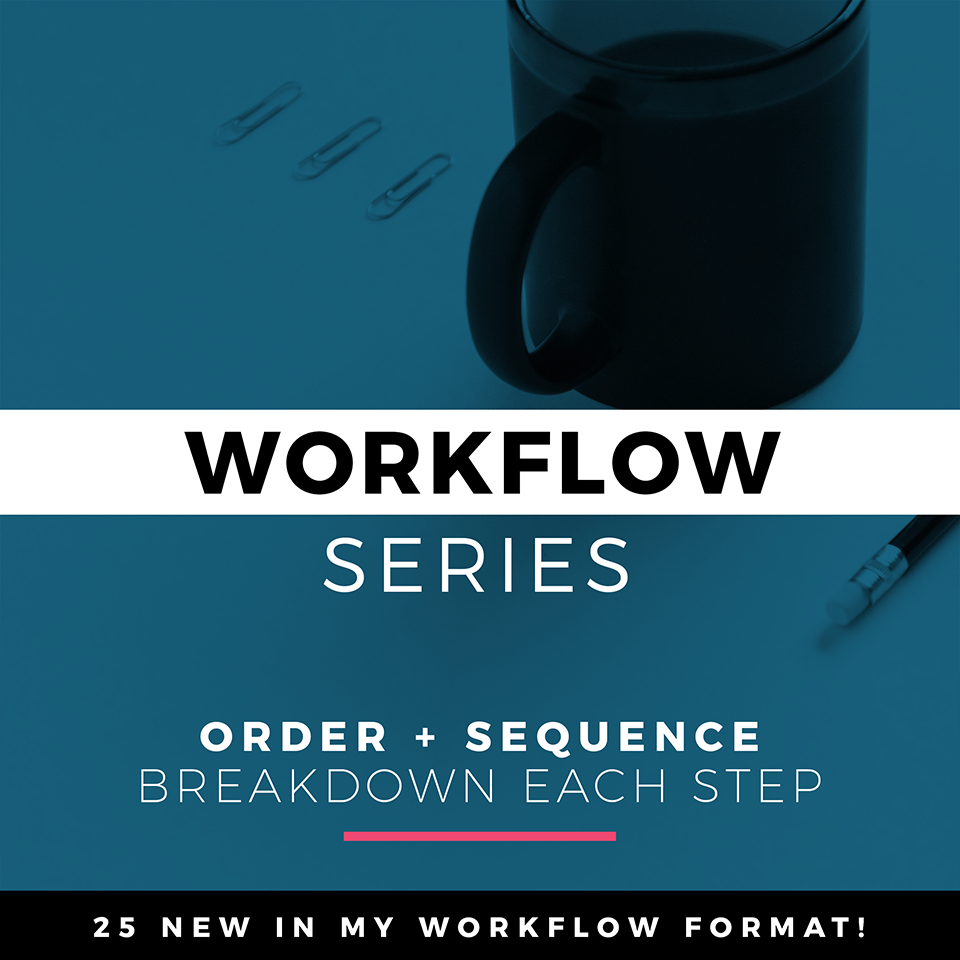 LEARN NEW TOPIC
Premium Plus is for those of you who like "Learning by Doing." This is all Teaching 101, the more you apply what you just learned the more you will remember it.
IMMEDIATELY APPLY
When we say Active Learning, this is just a nicer way of saying Force Learner Participation. When you immediately apply the information and repeat the skill your retention moves up to 85-100%.
REPITITION
The more you do the more comfortable and faster you get within the program. We have various Growth Models and more Open Design formats as you advance through your learning.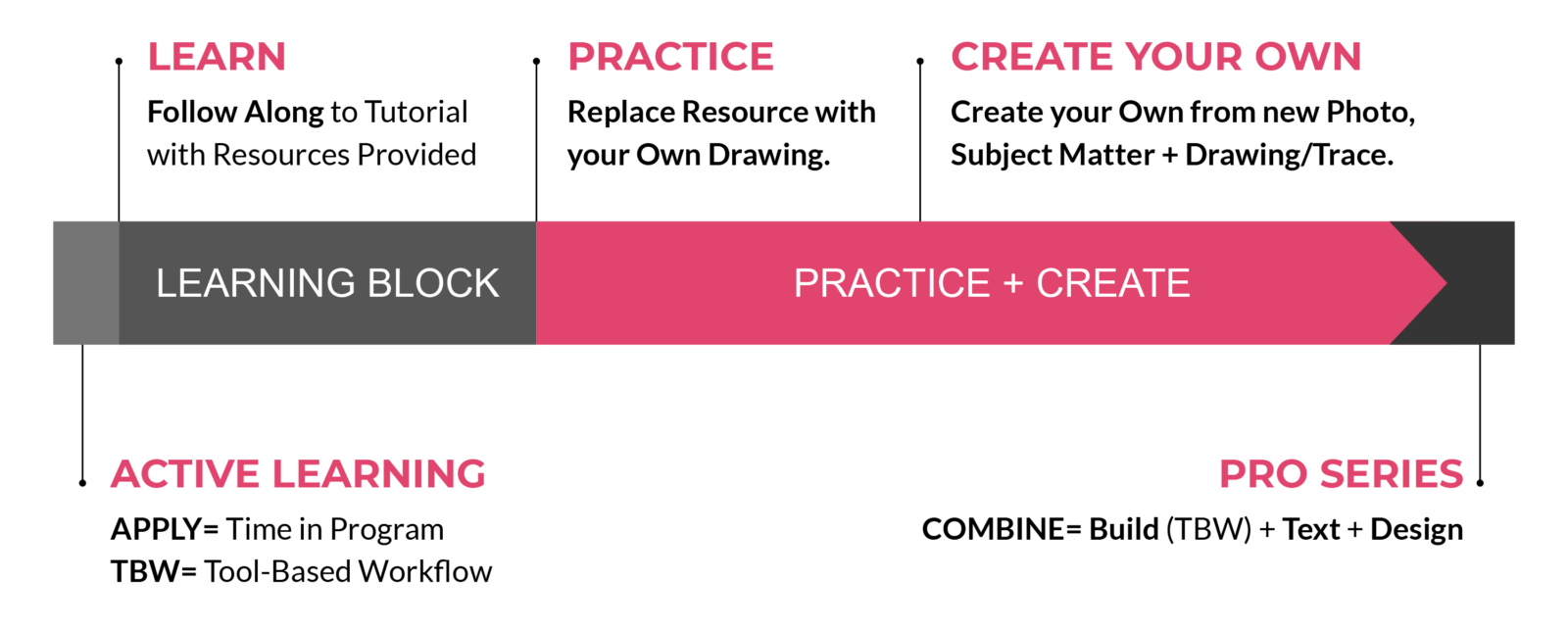 LEARNING PHASE
The first Phase of the process is just to learn the program within the Linear Workflow Model. If you are still struggling and frustrated in Adobe Illustrator, I would recommend following along with the step by step along with the resources provided.
PRACTICE PHASE
The main goal is to transition into creating your own artwork as quickly as possible. The goal of this phase is to start replacing my resources with your own drawings or sketches. We do have Pre-Workflow and Drawing for Illustrator lessons to follow to start from your own drawing.
EFFICIENCY MODEL
We have 9-15 Hours within each of our Tool-Based Workflows. The focus is to go through the Growth Models to hit a level of proficiency and efficiency within the program to start adding on keyboard shortcuts. This will come with time in the program. Don't worry about keyboard shortcuts if you are still struggling with navigation.
CREATE YOUR OWN
Once you have completed all of the step by step lessons in one Unit Block, I would move directly into creating your own artwork using the same Tool-Based Workflow. The next step in the process is to bring your own artwork through the Text and Shape-Based Design lessons to get completed pieces for your portfolio.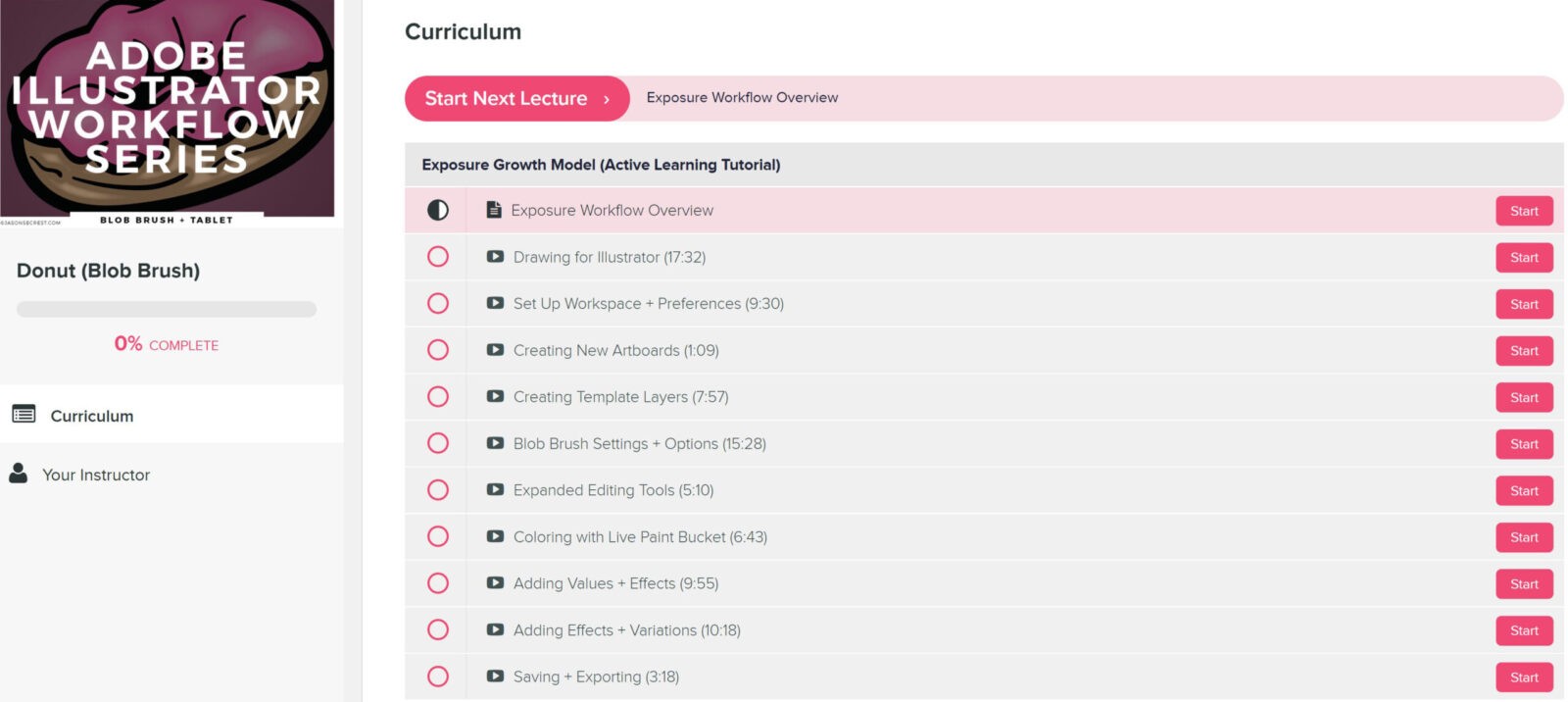 WORKFLOW STRUCTURE
I thought it was important to let you know of our Workflow Structure for our New Content, since our little thumbnails don't really do them justice. Our Workflows are similar to our older Challenge Series, where we break down each step to explain for the brand new user. We have between 40-50 in the full Workflow Format in Premium Plus.
SEQUENCE + STRUCTURE
The main goal for a Workflow is that you can use it no matter what your style or subject matter. The Linear Workflow allows you to switch out the primary Build Tool based on the design or your own style preferences. The structure and sequence are important so that you can isolate one problem at a time while you are learning or moving on to your own artwork.
Top notch video as usual man. Cheers!Made by Mighty
I really love your channel, thanx for your tutorial really helpful 🙂 Sara Abdalla • 1 year ago
First time dive into Illustrator. This was great, learned a ton! ThanksPhilippe Lachenal
Such a cool drawing ! My favorite in this series !!!! Espermaschine • 1 year ago
I appreciate your videos. I have been an illustrator user for years and have my own ways of doing things. It's great to see other ways of using tools and learning tricks I didn't know were available! It's also good to see you doing the same thing as me in other instances, confirming I'm on the right track!Andy Zenz
Awesome tutorial! I don't think I've picked up something so easily from someone who knows what they are doing. I managed to draw my first vector art and it was a joy! Great work keep it up!blitz145
Great job Jason, you make it look so easy. And it actually was. Thumbs up!Little Richard • 5 months ago
That was a fun tutorial. I really enjoyed it. Thanks for such a detailed, easy to follow tutorial! Daniel Huckabay • 1 year ago
Love your video thanks so much. you blow Lynda.com out of the water!!!!Steve Yensel
Brilliant video. So much great info packed in here. I'm just getting started drawing cartoons with my Wacom tablet, and this was a huge help. Thumbs up and thanks!Dorian Staten
Wow Thanks Jason…was really struggling with making images with basic shapes. Your tutorial is helping me out!!Kishor Rajani
thanks a lot you are really one of my favorites, I like the steps you give us, and I'm so thankful for that effort you do for helping us :)Wessam Lotfi
Keep up the good work Jason. I've been doing Lynda.com tutorials for a few months now and I got more out of your videos than what I've received at Lynda. Keep it up and Thank You!!bobby jacobs • 1 year ago
These tutorials are amazing. Just started using illustrator and really glad I found your channel. The only videos that explain everything step by stepAida Stan
You are definitely one of the best teachers I've found dealing with start to finish creative process. Great work!!!Jasen Fisher
Thank you loads! Compared to other tutorials, yours are just really well-explained and easy-to-follow. Can totally see that you've got a passion for what you're doing and that's just wonderful! 🙂 Keep it up, you're doing an amazing job. Yulia Kachurova
Thank you so much man, I loved the way you explain this, I spent days looking for a good tutorial vid, thanks a lot, gonna keep watching your videos!!!Karel Marccenaro