ACTIVE LEARNING
TABLET QUICK GUIDE
STEP #1: TABLET INSTALLATION. Make sure you have installed your Tablet as well as the driver based on the manufacturer's instructions. The 2 things people miss are either the driver hasn't been installed or you haven't restarted your computer after installing the driver. The Quick Start Guide will be going through my preferred method of teaching and using Adobe Illustrator with a Tablet.
STEP #2: BREAKDOWN YOUR WORKFLOW. Many of you are new to your Tablet and potentially new to Adobe Illustrator. I am going to recommend breaking down your workflow into multiple steps so you can understand the program before forcing in your tablet. I do see a lot of mistakes when people try to combine too many steps all at once with their tablets, so keep it simple.
STEP #3: FOLLOW ALONG.
 The first thing to note is that everything is in a 
Follow Along or Step by Step Format in our Adobe Illustrator Active Learning Curriculum the Website, YouTube and Teachable. I would plan 30 Minutes to an Hour per Individual Full-Length Module. We go in order to prevent Beginner Mistakes and do a lot of the troubleshooting within the Tutorials.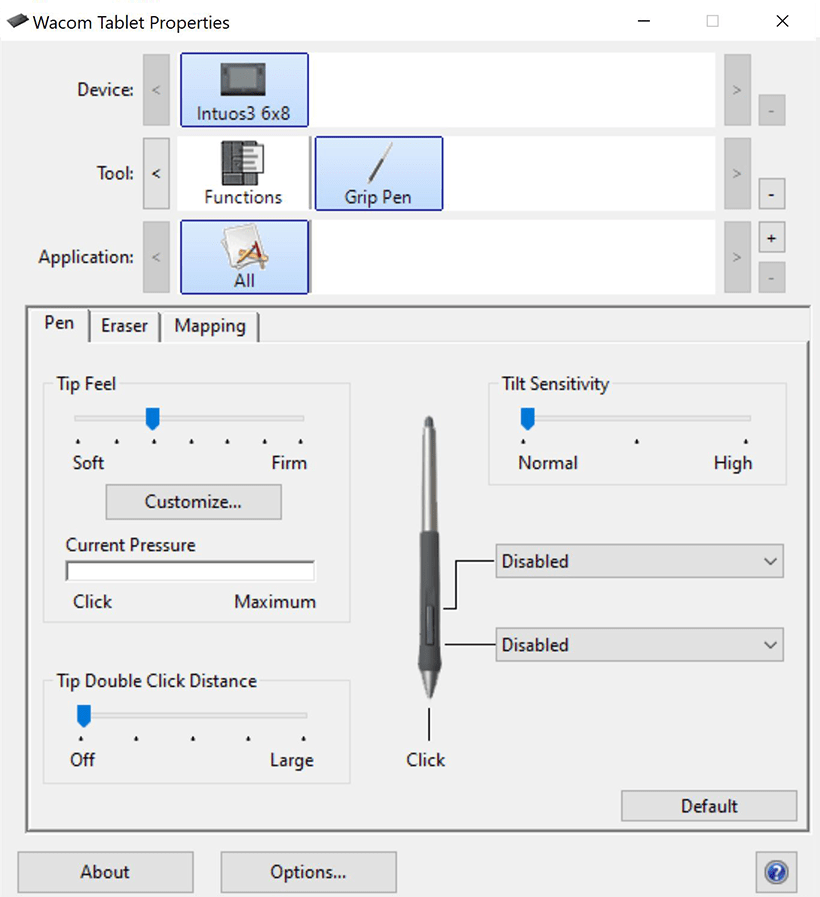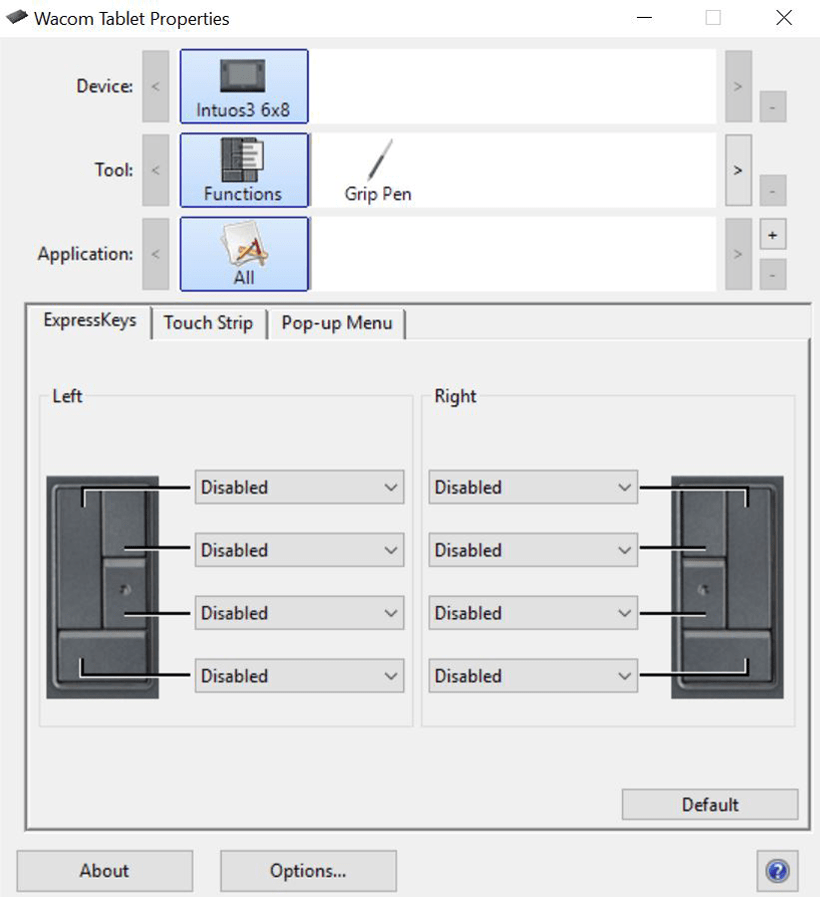 Grip Pen Settings
Default settings are a great place to start. As you practice more you can tweak a few, but you will see mine haven't changed. Play around with the tip feel by using the customize feature. You will be looking for control of thick to thin when using pressure.
Marker Test
We will be using the Pencil Tool and Paint Brush Tools in Adobe Illustrator to use along with our Cartoon Brushes. The Market Test is to think about how you normally ink on a piece of paper and mimic the same process in Adobe Illustrator. Each Path is will align with a Brush Stroke.
External Tools
I have access to my keyboard and a mouse for using the Keyboard Shortcuts and my non-tablet based workflows in Adobe Illustrator. I do recommend an external or USB Keyboard if you can no longer reach your keyboard due to your tablet or workstation setup.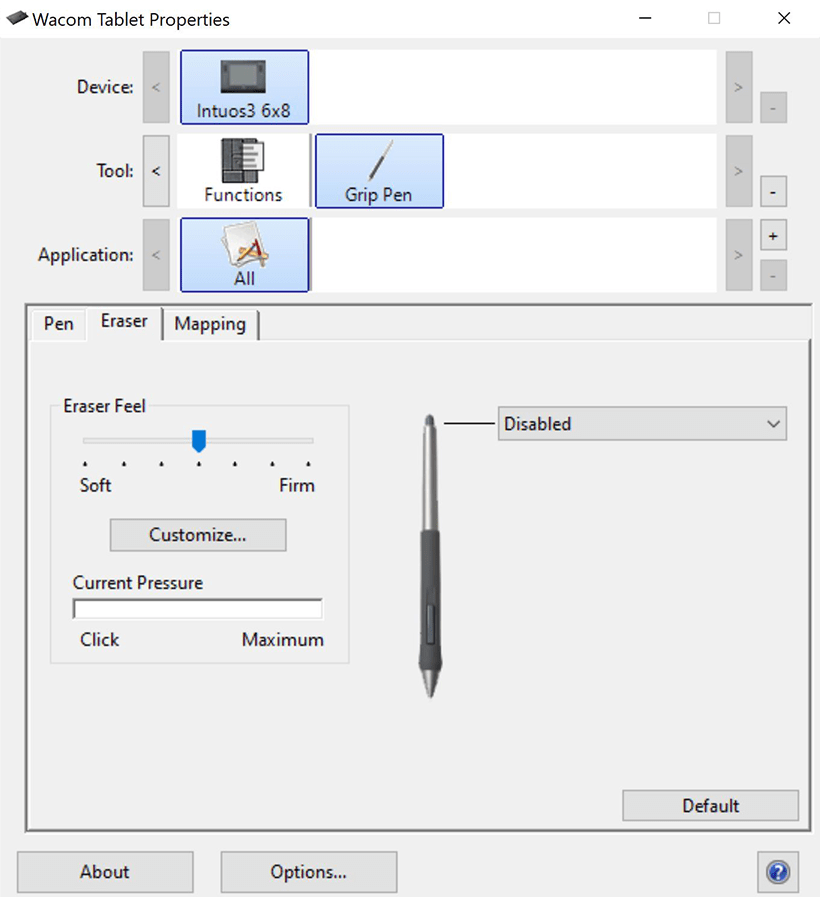 Express Keys + Touch Strips
I have mine Disabled. I am a big believer in the Adobe Keyboard Shortcuts over the tablet Express Keys. Troubleshooting: Look for your screen moving at random. Some Express Keys or Touch strips will accidentally be hit with your wrist or your non-drawing hand.
Troubleshooting
If you are getting accidental Isolation Mode we can fix it in two ways. The first is above you will see I have the Double Click Distance set to OFF. (I use my mouse) If you don't have a mouse you can turn off Double Click to Isolate in your Illustrator General Preferences.
Tablet Quick Set Up
These are my personal settings for my tablet. So if you want a fast way of getting started these are great starting points. You will notice that we go through all of the Main and Support Tools for your Tablet, including how to customize your Keyboard Shortcuts which can be plugged in to your Express Keys.
Preferences + Smart Guides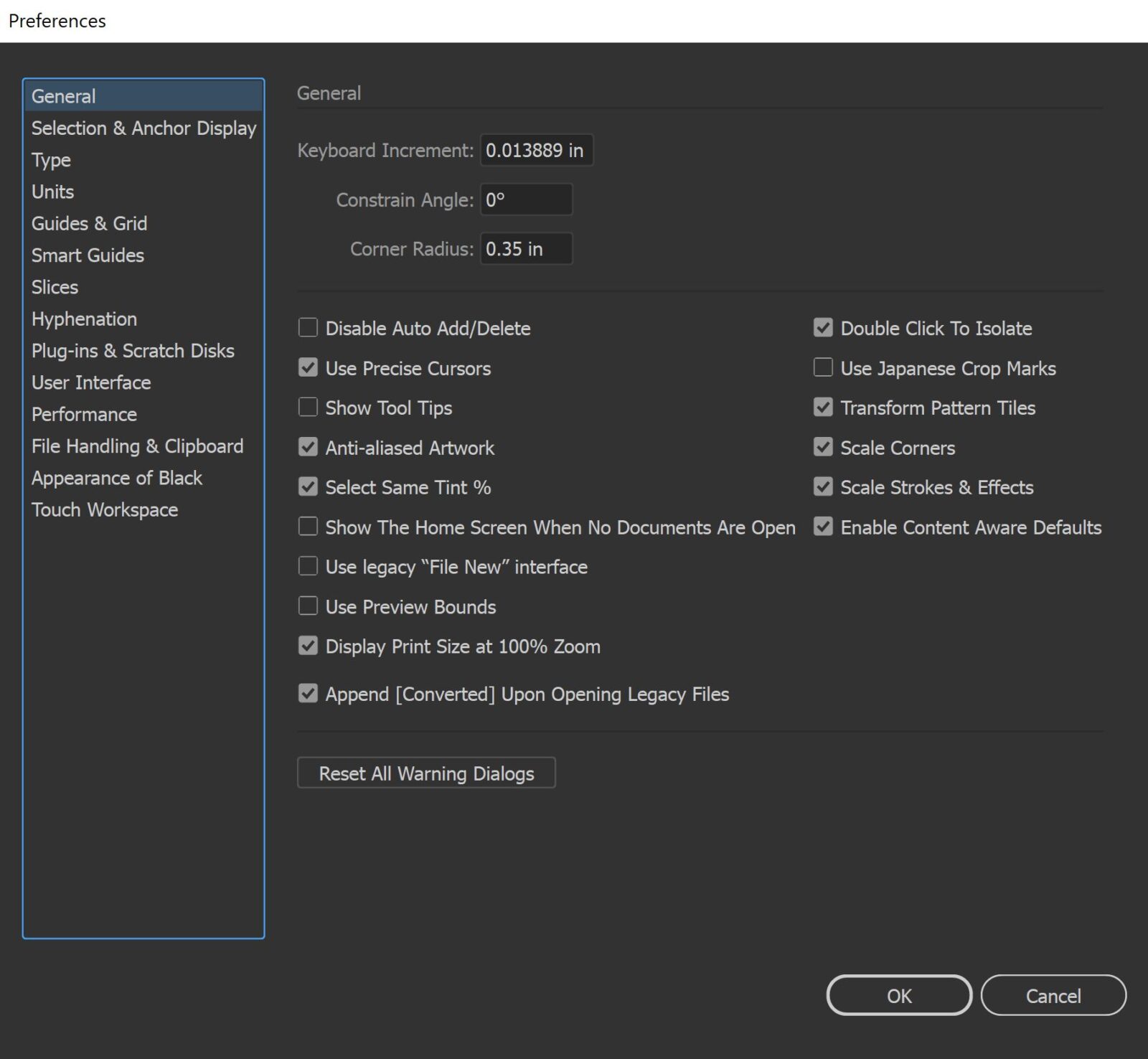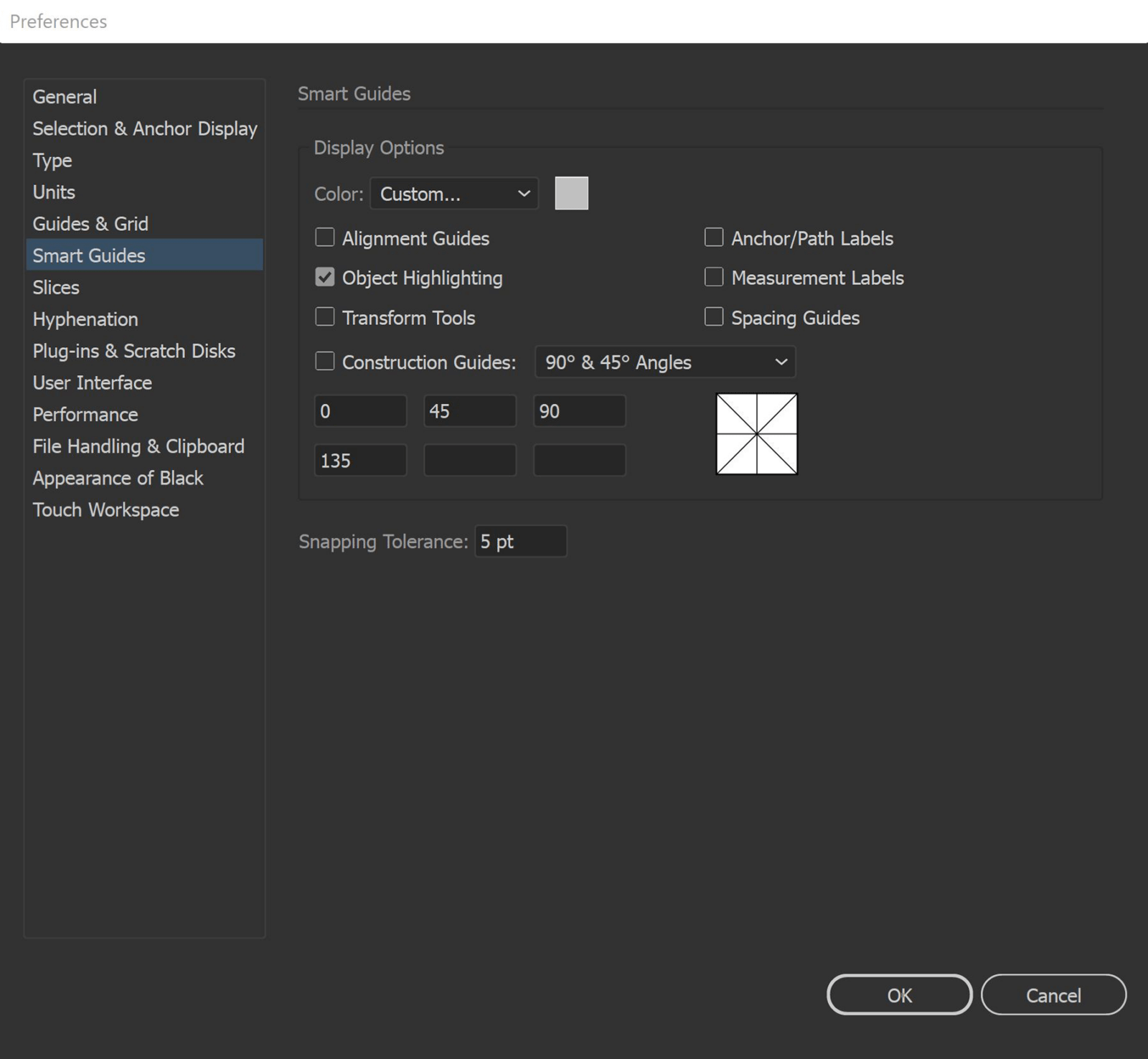 General Preferences
Most of the General Settings are Default. You can double check your preferences against the image. A common question I get is about the Precise Cursors, you can see on my screen that the box is checked which will change the brush from seeing the icon.
Smart Guides
You will notice that my Smart Guides only have the Object Highlighting turned on. When using your Tablet most of the General or Default Preferences will work for your Tablet. I do recommend turning off Snap to Pixel while drawing.
ACTIVE LEARNING
PREMIUM PLUS
Freeform Line with Pencil
The asterisk is the icon that will be the most friendly to you as a beginner. As long as you see the asterisk it is creating a freeform new line.

Pencil Holding Shift
Hold down shift to maintain constraints for horizontal and vertical lines. This also works for 45 degree angles.

Connecting 2 Paths
If in you pencil preferences you have keep lines selected you will see the slash when paths are looking to join. This is great for sharper corners.

Keep Selected
This will be the icon that you will look to avoid. This will bounce and erase lines and they merge close together. Turn off keep selected if this is happening frequently.
Adding on Line Variation using our Custom Cartoon Brushes
You will have more control over the placement and width of each of your lines using the Cartoon Brushes (Download + Install). The process will be a combination of using the Brushes to get down the initial thickness and stroke width. The second step will be modifying the placement of the variation using so we can edit it later. This 2-Step Process allows for more control over your Line Variation compared to using your Tablet under Pressure. Download our BRUSHES + RESOURCES.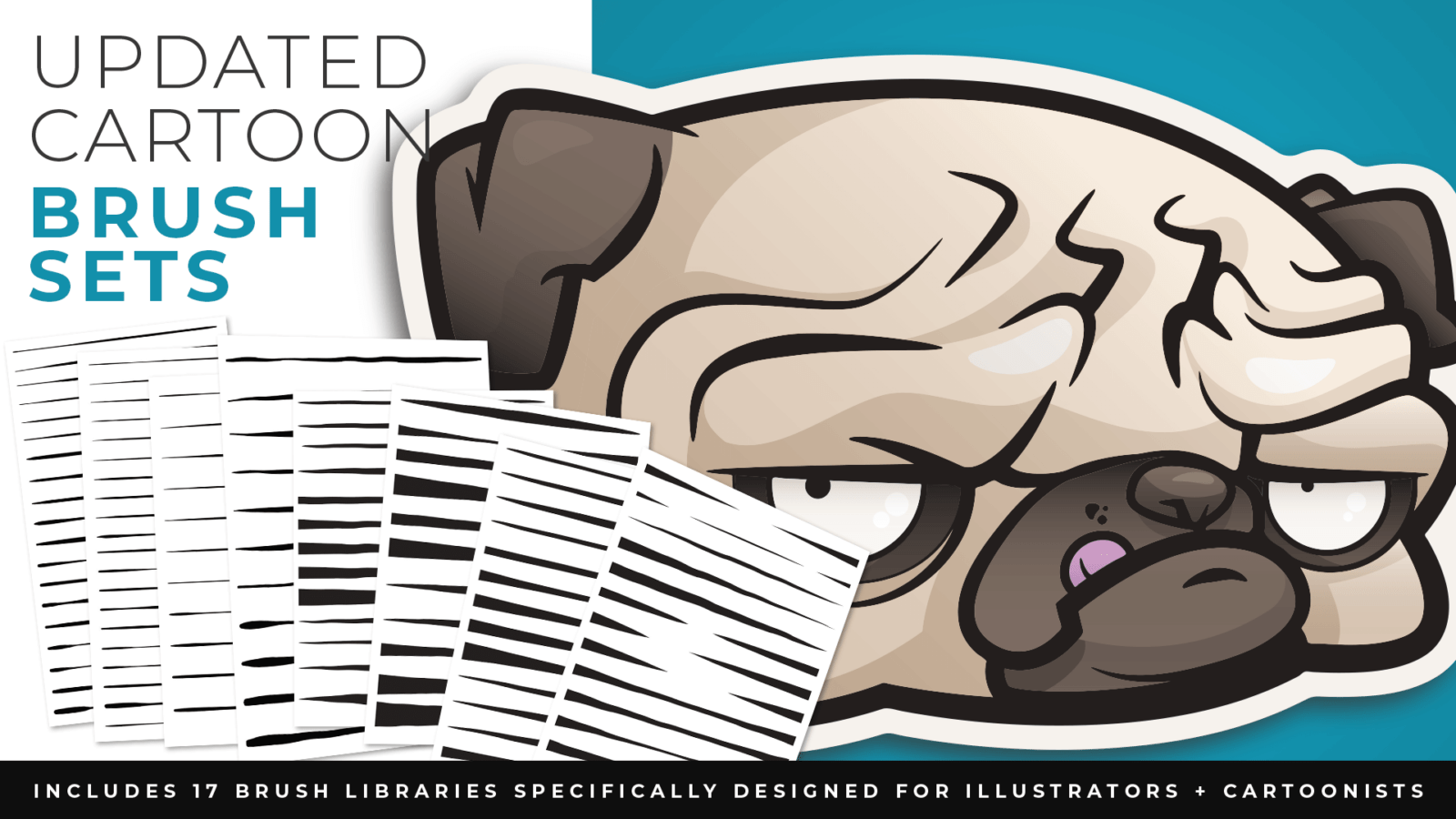 Tapered Line
Check where each line segment in the design ends. If you notice that one or more of the ends are floating out in space, this is a good indication that this should be tapered.
Line Thickness
While you are checking the ends of each segment and notice that the line ends connected to another line, this is an indication that the line should get fatter.
Control over Brushes
Our anchor point guides have already been designed with the final line (which includes the brushes) in mind. If you are drawing your own design, pay attention to the length of each line segment for more control over thickness.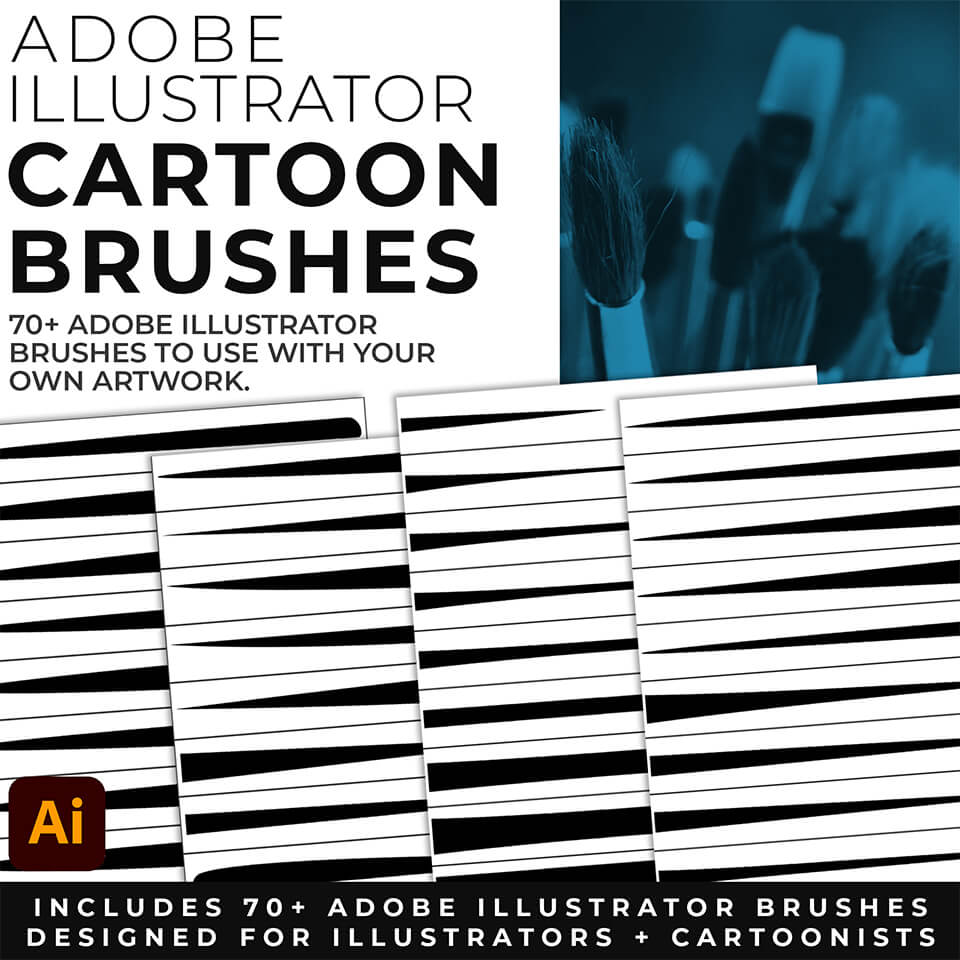 (Updated) Adobe Illustrator Cartoon Brushes
 specifically designed for Cartoonists and Illustrators who are looking to speed up their workflows. Use Cartoon Illustrator Brushes with the Pen, Pencil or Paint Brush Tools to Apply different Line Variation to your Vector Artwork. Includes 70+ Cartoon Brushes (libraries include the Updated Cartoon, Cartoon 2, and Original Cartoon Brush Libraries).
Includes Hand Painted + Comic Strip Sets
 to get a lived in feel back into your Vector Art. Comic Strips and Hand Painted are painted based on some of my favorite artists and cartoonists. These brushes are designed to look ready for the Sunday Paper. Includes 100+ Brushes (libraries include the Updated Comic Strip, Hand-Painted, Paintbrush, and Fine Liner Brush Libraries).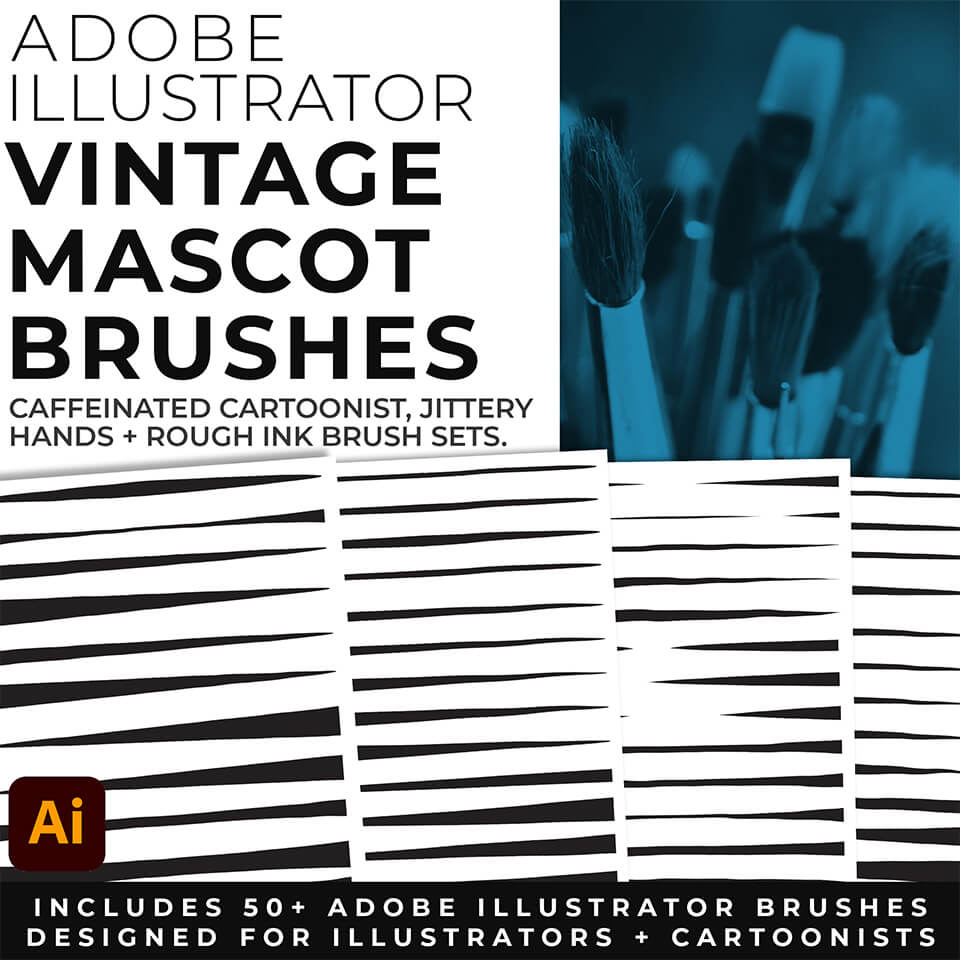 Jittery Hand, Caffeinated Cartoonist + Rough Ink to Mimic Paper Bleed and Caffeine.
Designed to be a little less stiff with your vector art. Use these Brush Libraries to get more of a distressed look or ink bleed back in your own Vector Artwork with heavy ink and a little more wobble. Includes 50+ Brushes (libraries include the updated Caffeinated Cartoonist, Rough Ink, and Jittery Hand Brush Libraries).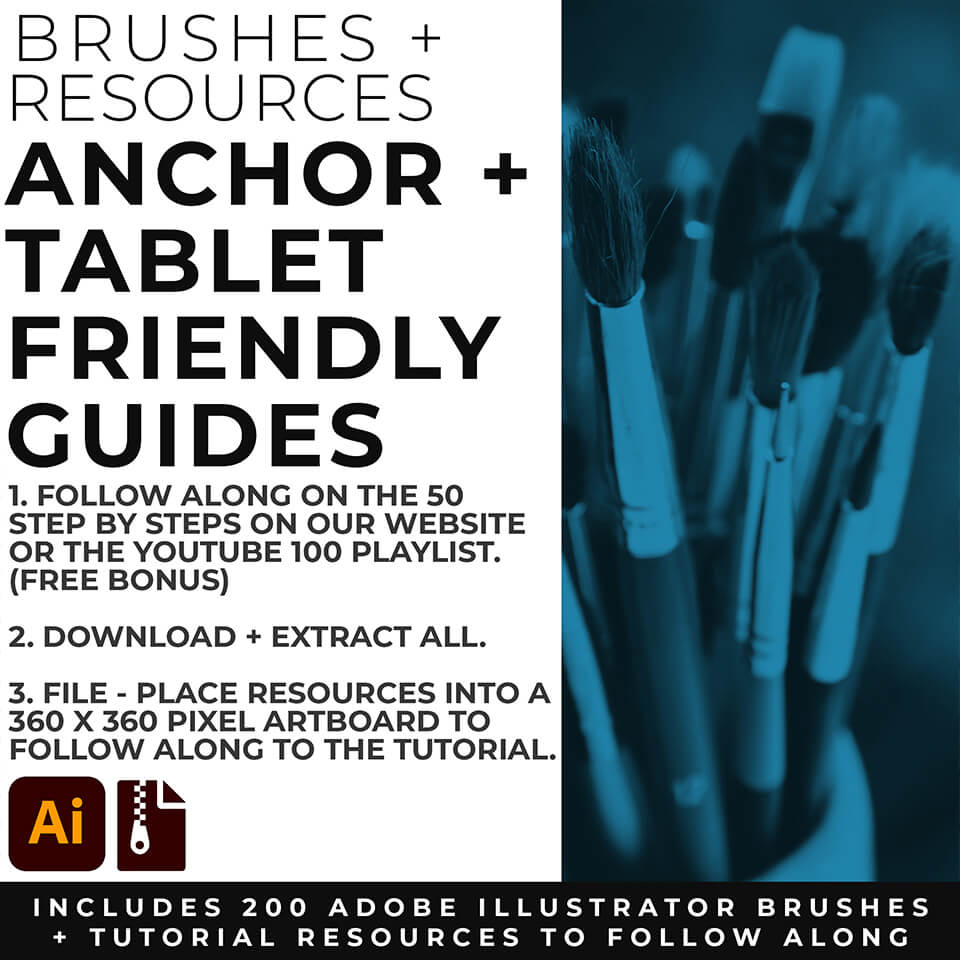 Free Bonus: I have included the  Anchor Point and Tablet Friendly Guides (as a Free Bonus) to Follow Along with the 50 Step by Steps on the Website or the 100 Beginner Tutorials Playlist on YouTube to Learn the Basics of Building, Applying Brushes, Editing, and Coloring in Adobe Illustrator. Follow Along with the Tutorials or use the Brushes with Your Own Artwork.
How to Color in Adobe Illustrator
One of the easiest and fastest ways of filling in your color is through Live Paint. Live Paint Bucket is a part of the Shape Builder Tools which builds the shapes in the exact shape you need it. Select All. Go up to Object - Live Paint - Make. If you have a grayed out Make it simply means you didn't have anything selected. I do recommend Deselecting by clicking on your artboard before clicking on a Color Swatch. *Remember Everything is still Selected so it will Color the Full Selection if you click on a Color Swatch with everything selected. Click on the Live Paint Bucket (K) and Click to Dump Color. It will feel like the Paint Bucket in Adobe Photoshop. 
Popular Adobe Illustrator Tutorials
Top notch video as usual man. Cheers!Made by Mighty
I really love your channel, thanx for your tutorial really helpful 🙂 Sara Abdalla • 1 year ago
First time dive into Illustrator. This was great, learned a ton! ThanksPhilippe Lachenal
Such a cool drawing ! My favorite in this series !!!! Espermaschine • 1 year ago
I appreciate your videos. I have been an illustrator user for years and have my own ways of doing things. It's great to see other ways of using tools and learning tricks I didn't know were available! It's also good to see you doing the same thing as me in other instances, confirming I'm on the right track!Andy Zenz
Awesome tutorial! I don't think I've picked up something so easily from someone who knows what they are doing. I managed to draw my first vector art and it was a joy! Great work keep it up!blitz145
Great job Jason, you make it look so easy. And it actually was. Thumbs up!Little Richard • 5 months ago
That was a fun tutorial. I really enjoyed it. Thanks for such a detailed, easy to follow tutorial! Daniel Huckabay • 1 year ago
Love your video thanks so much. you blow Lynda.com out of the water!!!!Steve Yensel
Brilliant video. So much great info packed in here. I'm just getting started drawing cartoons with my Wacom tablet, and this was a huge help. Thumbs up and thanks!Dorian Staten
Wow Thanks Jason...was really struggling with making images with basic shapes. Your tutorial is helping me out!!Kishor Rajani
thanks a lot you are really one of my favorites, I like the steps you give us, and I'm so thankful for that effort you do for helping us :)Wessam Lotfi
Keep up the good work Jason. I've been doing Lynda.com tutorials for a few months now and I got more out of your videos than what I've received at Lynda. Keep it up and Thank You!!bobby jacobs • 1 year ago
These tutorials are amazing. Just started using illustrator and really glad I found your channel. The only videos that explain everything step by stepAida Stan
You are definitely one of the best teachers I've found dealing with start to finish creative process. Great work!!!Jasen Fisher
Thank you loads! Compared to other tutorials, yours are just really well-explained and easy-to-follow. Can totally see that you've got a passion for what you're doing and that's just wonderful! 🙂 Keep it up, you're doing an amazing job. Yulia Kachurova
Thank you so much man, I loved the way you explain this, I spent days looking for a good tutorial vid, thanks a lot, gonna keep watching your videos!!!Karel Marccenaro
Top notch video as usual man. Cheers!Made by Mighty
I appreciate your videos. I have been an illustrator user for years and have my own ways of doing things. It's great to see other ways of using tools and learning tricks I didn't know were available! It's also good to see you doing the same thing as me in other instances, confirming I'm on the right track!Andy Zenz
Awesome tutorial! I don't think I've picked up something so easily from someone who knows what they are doing. I managed to draw my first vector art and it was a joy! Great work keep it up!blitz145
Love your video thanks so much. you blow Lynda.com out of the water!!!!Steve Yensel
Brilliant video. So much great info packed in here. I'm just getting started drawing cartoons with my Wacom tablet, and this was a huge help. Thumbs up and thanks!Dorian Staten
Wow Thanks Jason...was really struggling with making images with basic shapes. Your tutorial is helping me out!!Kishor Rajani
thanks a lot you are really one of my favorites, I like the steps you give us, and I'm so thankful for that effort you do for helping us :)Wessam Lotfi
Keep up the good work Jason. I've been doing Lynda.com tutorials for a few months now and I got more out of your videos than what I've received at Lynda. Keep it up and Thank You!!bobby jacobs • 1 year ago
These tutorials are amazing. Just started using illustrator and really glad I found your channel. The only videos that explain everything step by stepAida Stan
You are definitely one of the best teachers I've found dealing with start to finish creative process. Great work!!!Jasen Fisher
Thank you loads! Compared to other tutorials, yours are just really well-explained and easy-to-follow. Can totally see that you've got a passion for what you're doing and that's just wonderful! 🙂 Keep it up, you're doing an amazing job. Yulia Kachurova
Thank you so much man, I loved the way you explain this, I spent days looking for a good tutorial vid, thanks a lot, gonna keep watching your videos!!!Karel Marccenaro