ADOBE ILLUSTRATOR
PENCIL TOOL WORKFLOW
PENCIL TOOL
This Workflow is literally a tracing workflow. This is for those of you who just want to get your lines down so you can add on line weight or for those of you will have more value layers.
SETTINGS FOCUS
I have my settings set for my own natural hand movements. As you are going through the Workflows, try to adjust the settings so you can can feel more natural with your hand movements.
WORKFLOW DESIGN
The nice part of the Pencil Tool Workflow is it is very flexible with where you can take it depending on your own style. As you are going through the Workflows, compare and contrast to your own artwork.
LEARNING PHASE
The first Phase of the process is just to learn the program within the Linear Workflow Model. If you are still struggling and frustrated in Adobe Illustrator, I would recommend following along with the step by step along with the resources provided.
PRACTICE PHASE
The main goal is to transition into creating your own artwork as quickly as possible. The goal of this phase is to start replacing my resources with your own drawings or sketches. We do have Pre-Workflow and Drawing for Illustrator lessons to follow to start from your own drawing.
EFFICIENCY MODEL
We have 9-15 Hours within a Tool-Based Workflow. The focus is to go through the Growth Models to hit a level of proficiency to start adding on keyboard shortcuts and some speed into your workflow. This will come with time in the program. Don't worry about keyboard shortcuts if you are still struggling with navigation.
CREATE YOUR OWN
Once you have completed all of the step by step lessons, I would move directly into creating your own artwork using the Tool-Based Workflow. The next step in the process is to bring your own artwork through the Text and Shape-Based Design lessons to get completed pieces for your portfolio.
The Pencil Tool will be my recommendation for a default tool for your tablet, especially if you are following along to tutorials that use the Pen Tool. The Pencil Tool will be a fast and user friendly alternative to the Pen Tool. It will also allow you to add on brushes or width profiles in a second step, which means more control over your designs.
Pencil Tool Modification for Tutorials: We have a lot of older tutorials that use the Pen Tool as the primary Build Mode. The good news is that the construction is done in a stroke format so it is an easy transition if you want to use the Pencil Tool. Follow along to the start of the tutorial with placing and creating your template layer, but Place in your Tablet Friendly guide instead of the Anchor Point Guide. Trace the Tablet Friendly guide at your own pace. You will be done faster with the Pencil Tool, so skip to the part of the tutorial when inking is all done and we haven't added on any variation, brushes or width profiles. You can now just follow along to the tutorial.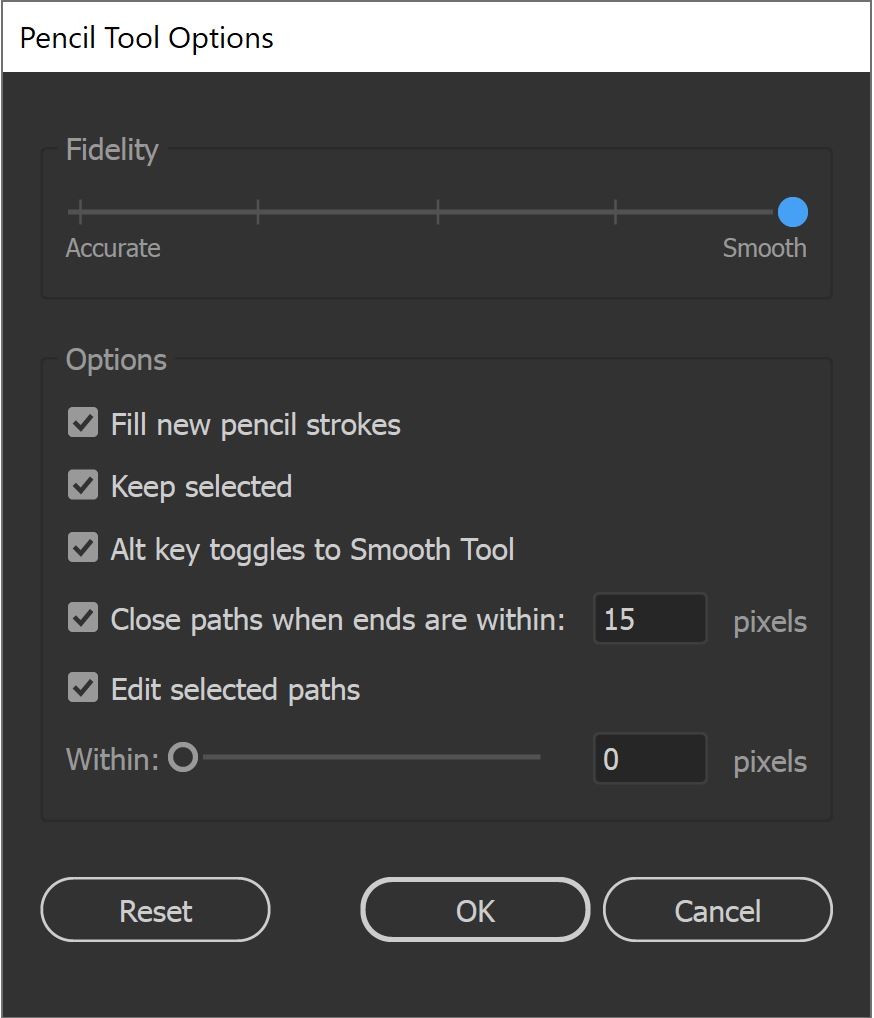 Keep Selected
The settings that are shown are to start prepping you for our Efficiency Workflows. The Keep Selected and Edit Selected will allow you to lift up your pen and join paths on the fly. This is important for corners and using the Fidelity settings on high.
Edit Selected Paths
The Edit Selected is important for joining paths as we go. This will save an extra step of having to go back through and join ever path together. However, the setting below it will drive you crazy if you aren't aware of it. This will re-draw or auto correct your line if you are too close to it. Notice I have mine OFF or set to Zero. I just click Undo (Control + Z) instead.
Fidelity + Smoothing
I really like having the smoothing turned up to smooth or almost at smooth. This will auto-correct a lot of the bumps your tablet might pick up as well as remove extra anchor points. Pay attention to the settings for Editing and Selecting. This is so we can gain back control over the drawing corners without them rounding.
Alt/Option Key or Smooth Tool
In the section below, I will set up an individual Keyboard Shortcut for the Smooth Tool. It is nice to know that it is already built in the the Pencil Tool by holding down the Alt(Option) Key.
This is one of my favorite workflows for beginners who are looking to use their tablet. The workflow is great for beginners since it is so easy to get started with and get great results. If you have a tablet and are struggling with the Pen Tool, try converting some of the older tutorials over to the Pencil Tool. The 2020 Version has updated the Simplify – Path feature which will clean up a lot of the extra points the Pencil Tool.
Great for Hand-Drawn Designs

Best Use of Efficiency and Control

Great for Cartoons or Illustrations

Not Great for Logos

Tablet is Great but can be done with External Mouse.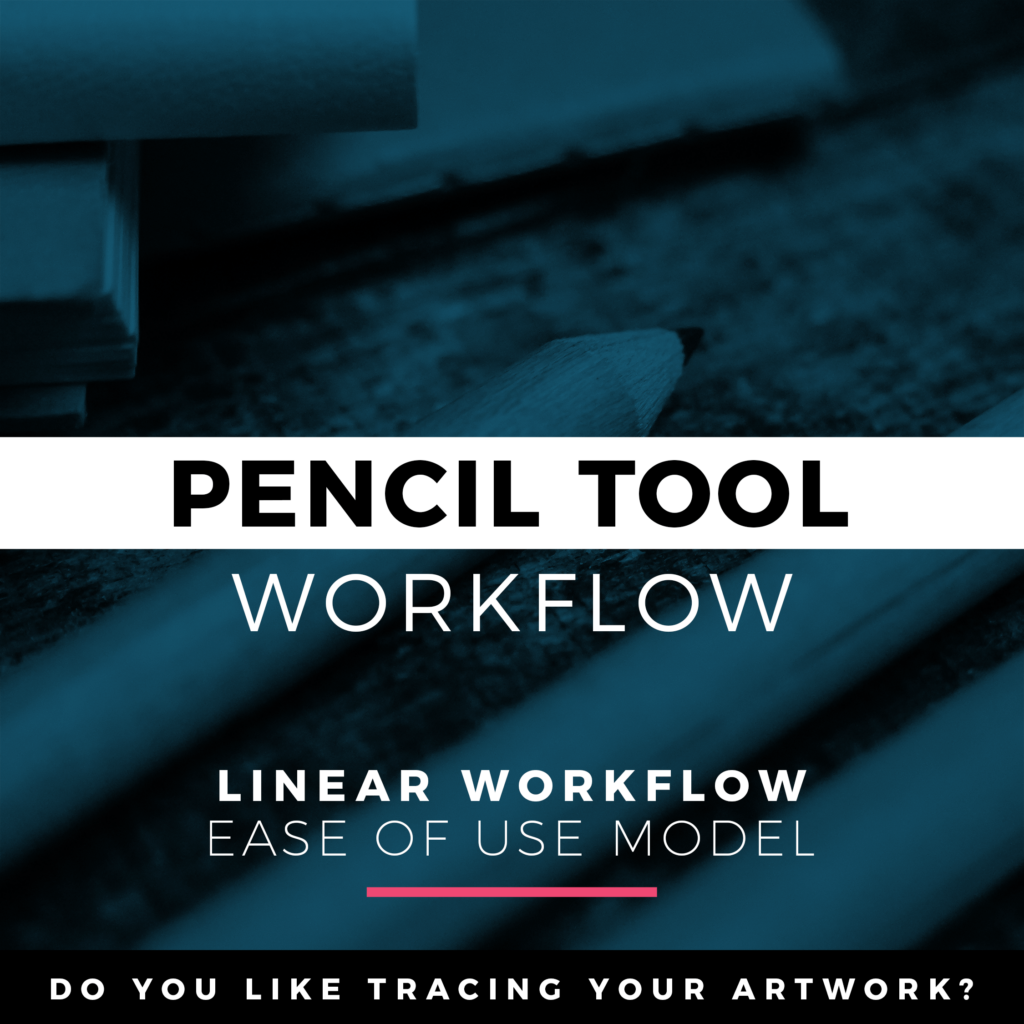 MY WORKFLOW
I am going to walk you through my Workflow using the Pencil Tool, Tablet and Line Variation Tools. This is exactly what I use for my comic strips and hand drawn projects in Adobe Illustrator. Your goal is to find what works for you and modify to fit in your own Workflow Design.
NO PRESSURE + TABLET
If you are going through some of the Blob Brush Workflows and are not getting the results you are seeking, try the Pencil Tool. It has the same hand movement, but you can back control with adding in line variation methods.
CHALLENGES?
What's with all the Challenges? The Pencil Tool is a very easy tool to master, so it allows us more time on the back side of the Workflow to add in more advanced coloring and layering of effects.
PENCIL TOOL
WORKFLOWS + CHALLENGES
LEARN ILLUSTRATOR
FOCUS: We are continuing our Tablet Series by focusing in on the Pencil Tool this month. The Pencil Tool is my go to tool for the Tablet. It allows for speed, but also offers a lot more control than the Blob Brush.
APPLICATION
Depending on your Tablet there is a lot to figure out on your end. How zoomed in or out do you like? How fast can you draw before you lose control? Can you modify the settings to match what your hand is doing?
ADVANCED
GROWTH MODEL: Draw as fast as you can before you get out of control. Play into our Editing Phase with faster application of your lines. See how much overlapping you can tolerate.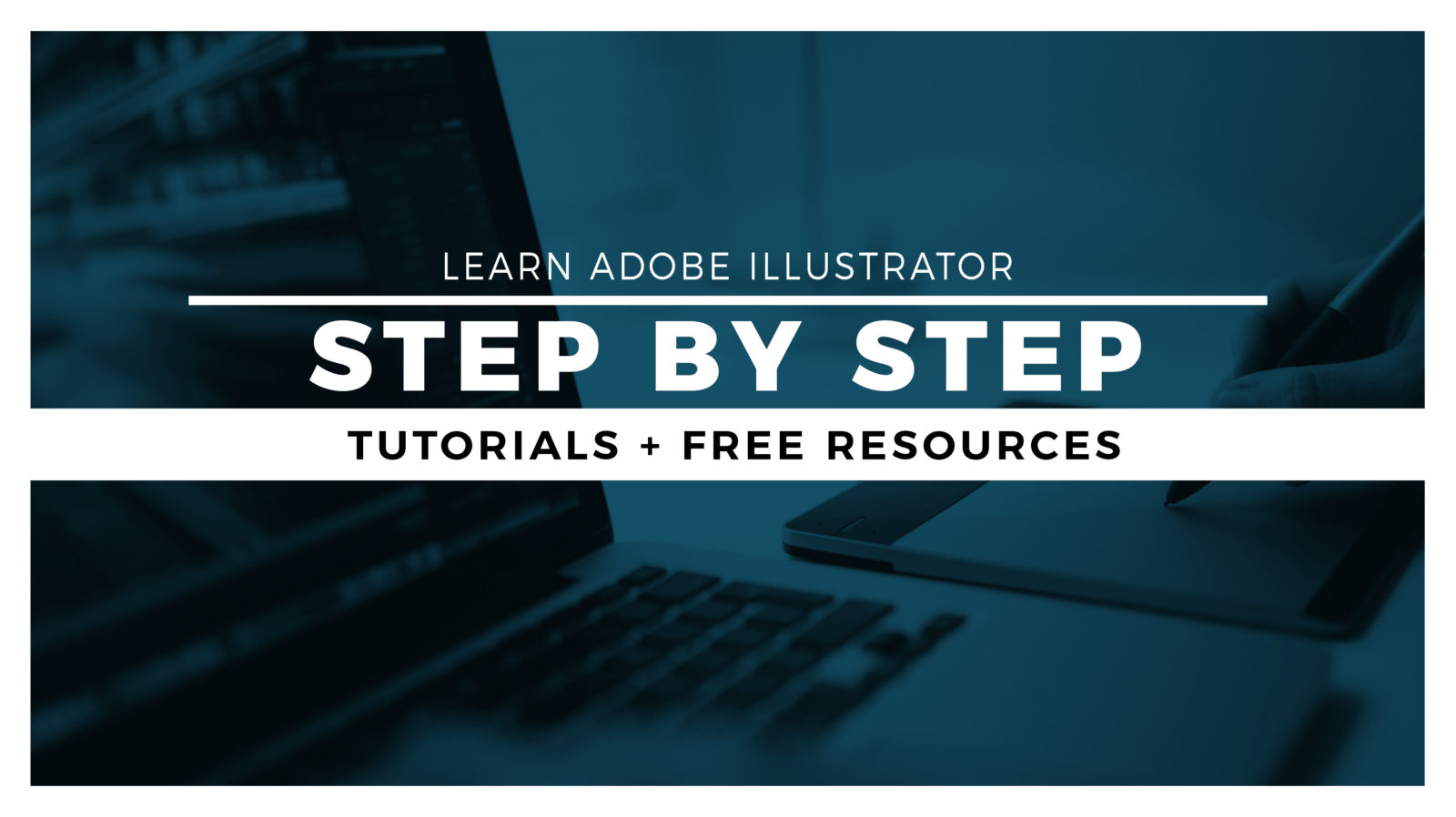 Top notch video as usual man. Cheers!Made by Mighty
I really love your channel, thanx for your tutorial really helpful 🙂 Sara Abdalla • 1 year ago
First time dive into Illustrator. This was great, learned a ton! ThanksPhilippe Lachenal
Such a cool drawing ! My favorite in this series !!!! Espermaschine • 1 year ago
I appreciate your videos. I have been an illustrator user for years and have my own ways of doing things. It's great to see other ways of using tools and learning tricks I didn't know were available! It's also good to see you doing the same thing as me in other instances, confirming I'm on the right track!Andy Zenz
Awesome tutorial! I don't think I've picked up something so easily from someone who knows what they are doing. I managed to draw my first vector art and it was a joy! Great work keep it up!blitz145
Great job Jason, you make it look so easy. And it actually was. Thumbs up!Little Richard • 5 months ago
That was a fun tutorial. I really enjoyed it. Thanks for such a detailed, easy to follow tutorial! Daniel Huckabay • 1 year ago
Love your video thanks so much. you blow Lynda.com out of the water!!!!Steve Yensel
Brilliant video. So much great info packed in here. I'm just getting started drawing cartoons with my Wacom tablet, and this was a huge help. Thumbs up and thanks!Dorian Staten
Wow Thanks Jason…was really struggling with making images with basic shapes. Your tutorial is helping me out!!Kishor Rajani
thanks a lot you are really one of my favorites, I like the steps you give us, and I'm so thankful for that effort you do for helping us :)Wessam Lotfi
Keep up the good work Jason. I've been doing Lynda.com tutorials for a few months now and I got more out of your videos than what I've received at Lynda. Keep it up and Thank You!!bobby jacobs • 1 year ago
These tutorials are amazing. Just started using illustrator and really glad I found your channel. The only videos that explain everything step by stepAida Stan
You are definitely one of the best teachers I've found dealing with start to finish creative process. Great work!!!Jasen Fisher
Thank you loads! Compared to other tutorials, yours are just really well-explained and easy-to-follow. Can totally see that you've got a passion for what you're doing and that's just wonderful! 🙂 Keep it up, you're doing an amazing job. Yulia Kachurova
Thank you so much man, I loved the way you explain this, I spent days looking for a good tutorial vid, thanks a lot, gonna keep watching your videos!!!Karel Marccenaro