ADOBE ILLUSTRATOR BRUSHES
DOWNLOAD + EASY INSTALL TO USE WITH YOUR OWN ARTWORK OR TUTORIALS
Step #1: Download Brushes. You will see the Download Brushes Button under the How to Install Brushes video. Click on the Pink Brushes Folder Zip to Start Downloading.
Step #2: Remember to Extract All. The Folder will come to you as a Zipped Folder. It will give you error messages during the install process if you forget. Open Adobe Illustrator.
Step #3: Open your Brushes Panel. Window-Brushes. In the Bottom-Left Corner you will see an Open Brush Library Icon. Click on it and Select- Other Library. Click and Use any of the Brushes Libraries.
ADOBE ILLUSTRATOR BRUSHES
17 BRUSH LIBRARIES WHICH INCLUDE 200 ILLUSTRATOR BRUSHES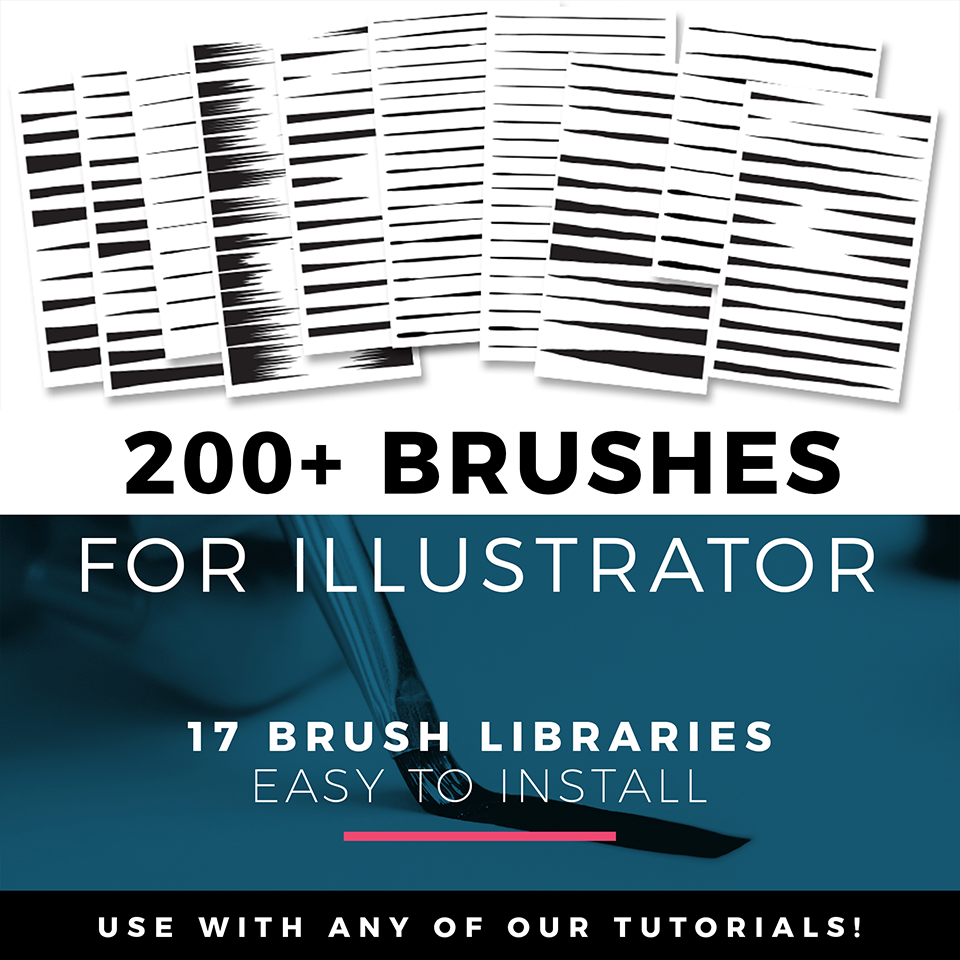 17 Brush Libraries for you to use in Adobe Illustrator. Follow Along to the Tutorials or use with Your Own Artwork. Our Cartoon Brush Sets are designed for Cartoonists and Illustrators who are looking to speed up their workflows.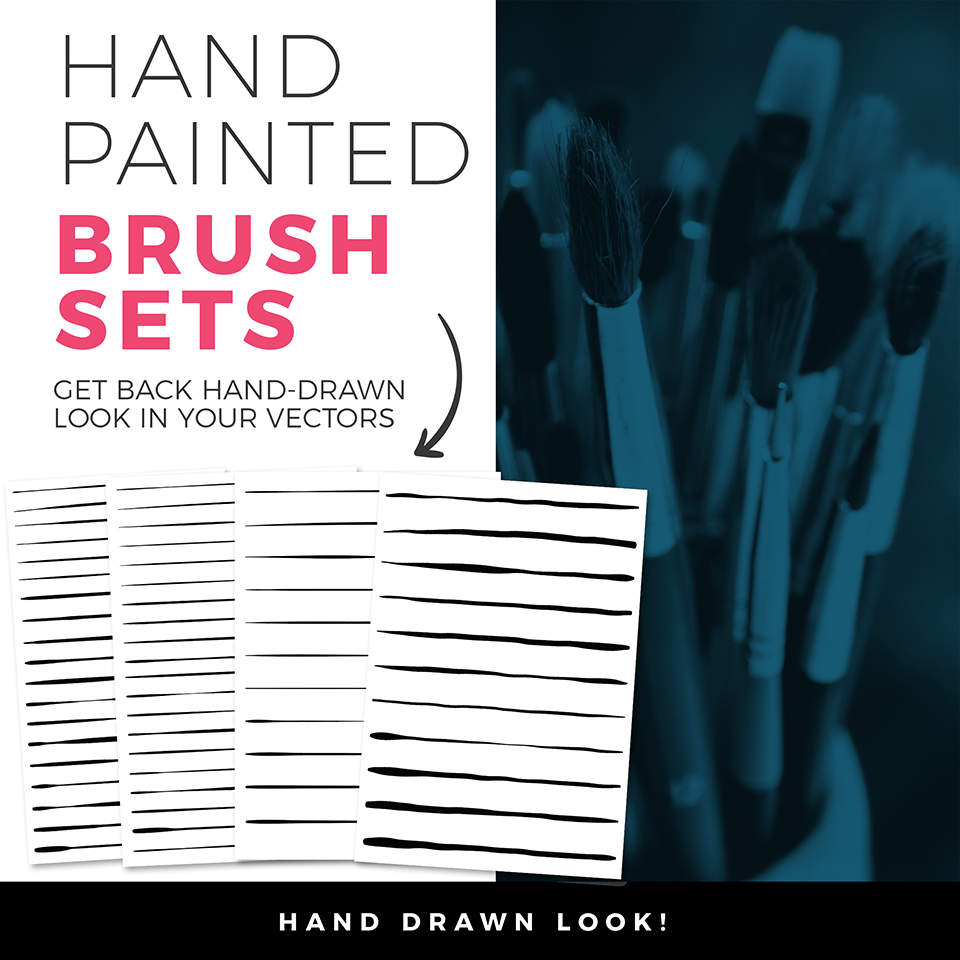 Hand Painted + Fine Line Marker Sets to get a lived in feel back into your Vector Art. Hand Painted + Fine Line Marker are actually painted based on some of my favorite artists and cartoonists. These are designed to look ready for the Sunday Paper.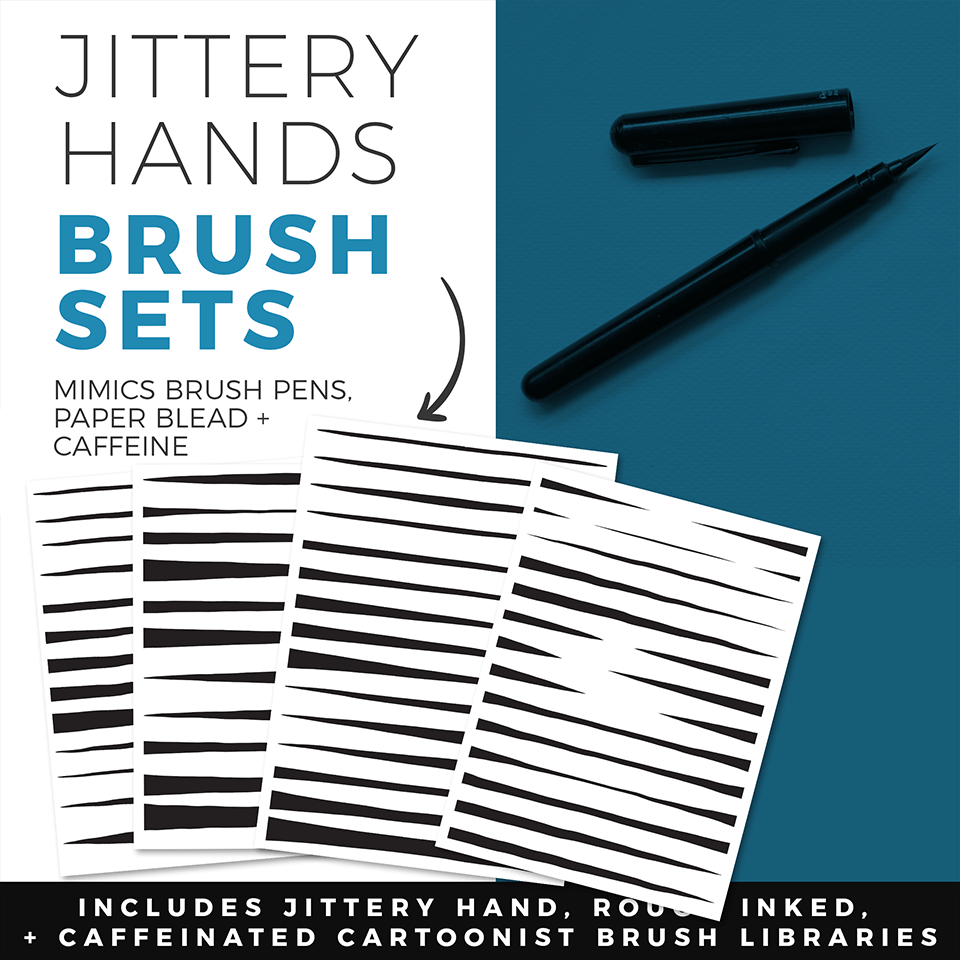 Jittery Hand, Caffeinated Cartoonist + Rough Ink to Mimic Paper Bleed and Caffeine. Includes our Cartoon Brushes 1 + 2. Designed to be be a little less stiff with your vector art. These are great to use along with our Texture packs to get a distressed look to your artwork.

Download Brushes
1. The Direct Download will make it very easy to download the zipped brushes file. Just Click on the Pink Zipped Folder. Simply Extract All of the contents and follow along with the rest of the video.
Open Other Library
2. In your Brushes Panel, Window – Brushes. In the Bottom Left Hand Corner you will see a Brushes Library icon that looks like a stack of books. Click on it and scroll down to Other Library. Open one of your Brush Libraries from the extracted folder.
Adding Line Weight
3. Depending on your own Style or preference, I would recommend adding a little more line weight to your artwork. The mistake I see a lot of beginners make is keeping the line weight at 1pt.
200 Illustrator Brushes
4. We have 17 Brush Libraries which included 200 Illustrator Brushes in our folder. You can use any one of them during a tutorial. I recommend following along to the Beginner Guide that will cover Brushes 101. The link is below the Download Zipped Folder and Installation Video.
"Just discovered your stuff, and all I can say is: Wow. This may well be the most informative Illustrator teaching that I've ever seen. Many thanks." Steve Kobb
"Keep up the good work Jason. I've been doing Lynda.com tutorials for a few months now and I got more out of your videos than what I've received at Lynda. Keep it up and Thank You!!" Bobby Jacobs
"Love your video thanks so much. you blow Lynda.com out of the water!!!!" Steve Yensel
"I've been using Illustrator for something like 20 years, and I learned 5 or 6 totally new things from your tutorial! Thanks for being so thorough in all of your explanations of what you're doing. Can't wait to watch more!" melissaek13