ADOBE ILLUSTRATOR PEN TOOL
In this Beginner Adobe Illustrator Tutorial, we will be going through a basic process on how to apply the pen tool and some different options if you are struggling. We go through a complete workflow using the pen tool, cartoon brushes, and the live paint bucket. We will be doing some basic coloring with effects. We will add on flat color using Live Paint Bucket, Inner Glows, and Drop Shadows to complete the step-by-step tutorial. Looking to Follow Along? This Tutorial is a part of our Brushes 101 Series.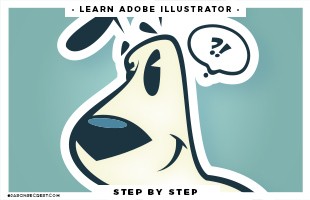 We are going through some different options for the pen tool. The few things to remember is to focus on getting down the anchors first. We have a lot of our tutorials that focus just on straight lines and placing anchors. The easy parts of the line are the start and end points which means you just have to look for changes in direction in the middle. Click and drag your mouse in the direction you want to go (slowly).
There are easy ways of approaching the pen tool. Start with straight lines and only look for changes in direction. Using your white arrow(A) select the point that look like they are curved and click on the smooth curves button. If your pen tool keeps adding a new anchor rather than a new line then make sure the line isn't still selected. You will notice a + as you hover over the line if it thinks you want to add an anchor. Anchor Tool(Shift C) will reset and manually drag out each curve.
The line variation can be simplified by looking at the ends of each of your lines. If it is floating out in space then it signals a tapered end. If the end point bumps up against another line or shape, this is a good signal that it should be wide. Use the stroke weight to adjust the thickness in areas to support the character and light source.
Zoom In
All of our initial preferences are designed to gain more control over what you are clicking on. The more you can zoom in and see your anchors and handles the better.
Smart Guides
Under VIEW make sure you have your smart guides turned on. Under your PREFERENCES (smart guides) you should definitely have your anchor/ path labels selected.
Anchor and Handle Size
In your (general) PREFERENCES there is a setting which can enlarge your anchor points and handles to make them easier for you to see before clicking.
Direct Selection Tool
The white arrow can grab and adjust the anchors, handles, and paths. All of the other settings are designed to let you know what you are selecting before you click and drag.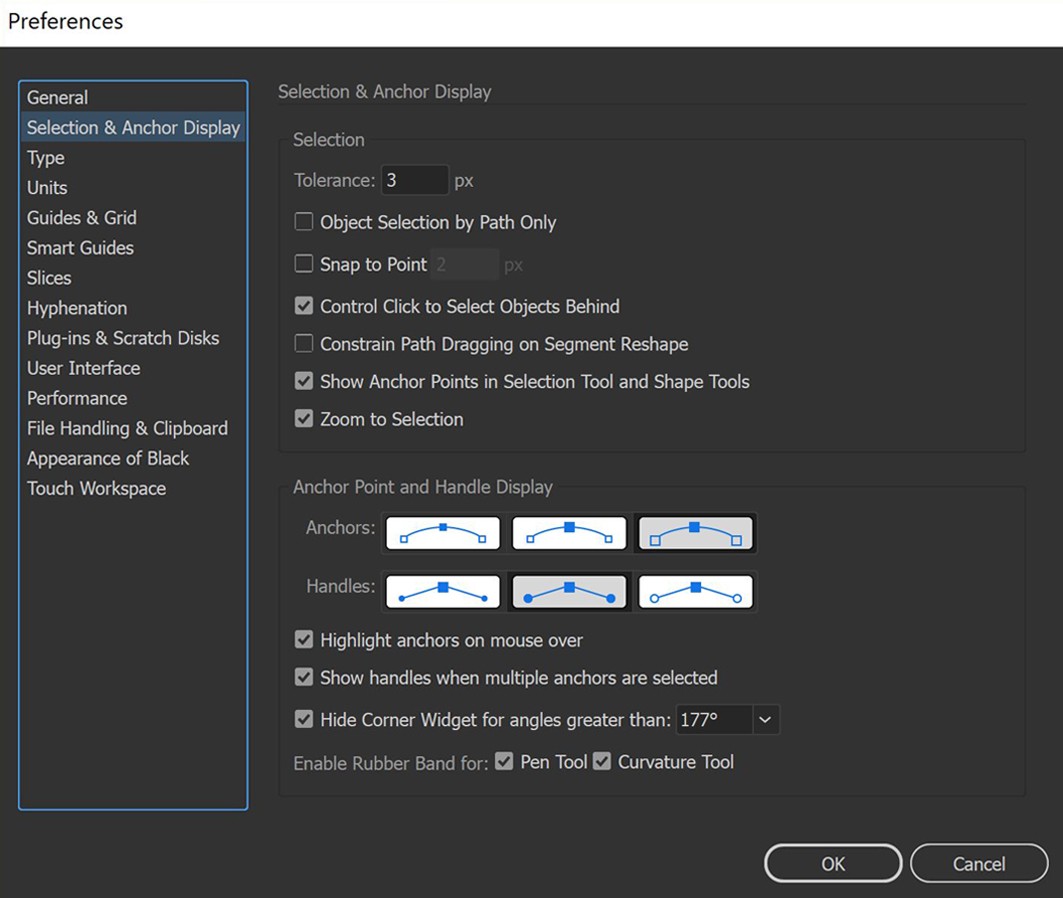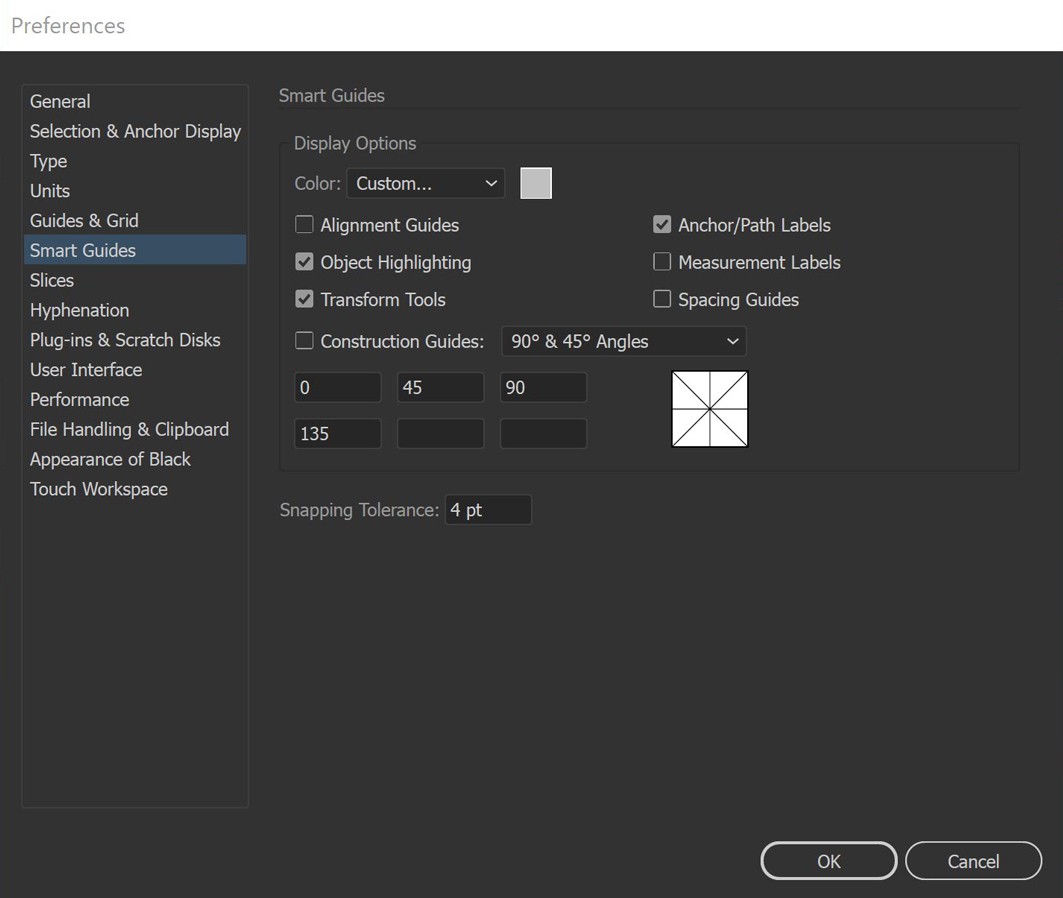 Adding on Line Variation using Cartoon Brushes
You will have more control over the placement and width of each of your lines using the Cartoon Brushes (Download + Install). The process will be a combination of using the Brushes to get down the initial thickness and stroke width. The second step will be modifying the placement of the variation using the so we can edit later. This 2-Step Process allows for more control over your Line Variation compared to using your Tablet with Pressure.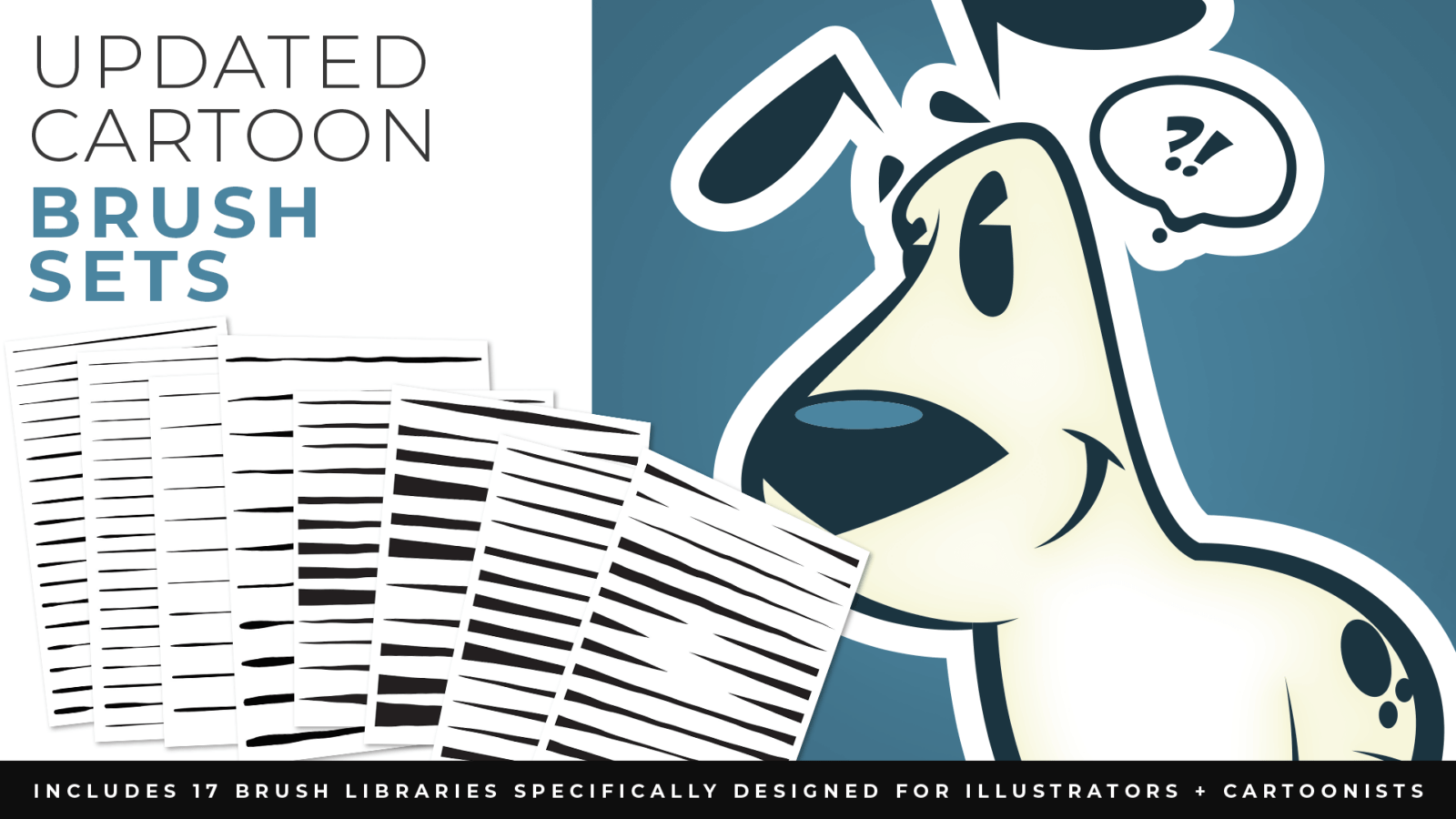 Download Brushes
1. The Direct Download will make it very easy to download the zipped brushes file. Simply Extract All of the contents and follow along with the rest of the video.
Open Other Library
2. In your Brushes Panel, Window - Brushes. In the Bottom Left Hand Corner you will see a Brushes Library icon that looks like books. Click on it and scroll down to Other Library. Open Brush Library from folder.
Adding Line Weight
3. Depending on your own Style or preference, I would recommend adding a little more line weight to your artwork. The mistake I see a lot of beginners make is keeping the line weight at 1pt.
Cartoon Brushes
4. We have 17 Brush Libraries in our folder. You can use any one of them during this tutorial. All you have to do is line up the thin edge which will be floating in space. The Thick ends will represent our values which will be merging into other areas and strokes.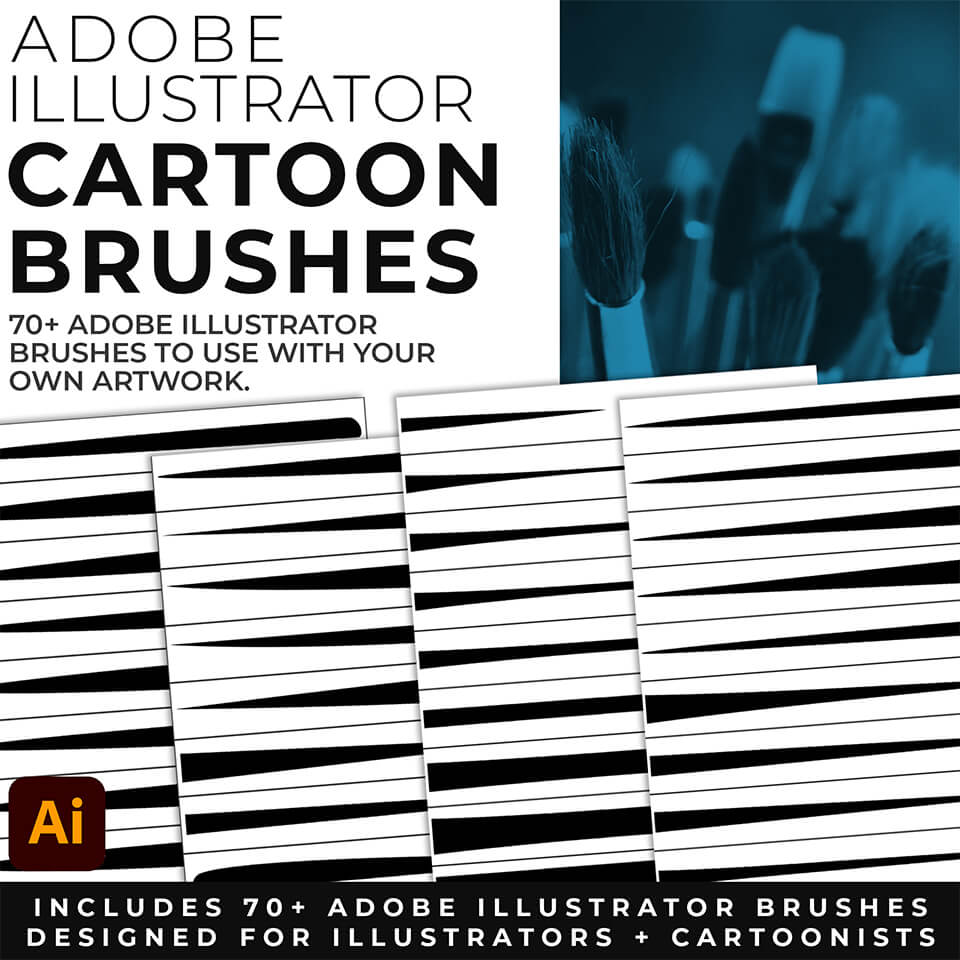 (Updated) Adobe Illustrator Cartoon Brushes
 specifically designed for Cartoonists and Illustrators who are looking to speed up their workflows. Use Cartoon Illustrator Brushes with the Pen, Pencil or Paint Brush Tools to Apply different Line Variation to your Vector Artwork. Includes 70+ Cartoon Brushes (libraries include the Updated Cartoon, Cartoon 2, and Original Cartoon Brush Libraries).
Includes Hand Painted + Comic Strip Sets
 to get a lived in feel back into your Vector Art. Comic Strips and Hand Painted are painted based on some of my favorite artists and cartoonists. These brushes are designed to look ready for the Sunday Paper. Includes 100+ Brushes (libraries include the Updated Comic Strip, Hand-Painted, Paintbrush, and Fine Liner Brush Libraries).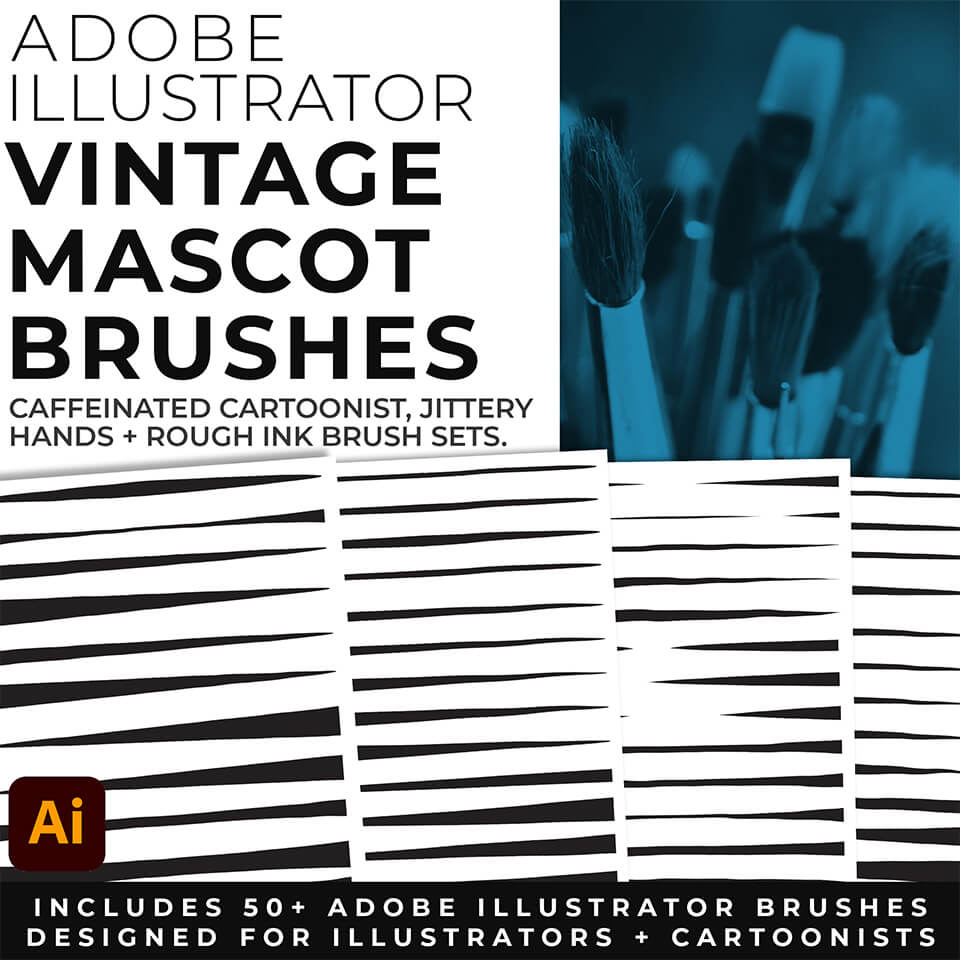 Jittery Hand, Caffeinated Cartoonist + Rough Ink to Mimic Paper Bleed and Caffeine.
Designed to be a little less stiff with your vector art. Use these Brush Libraries to get more of a distressed look or ink bleed back in your own Vector Artwork with heavy ink and a little more wobble. Includes 50+ Brushes (libraries include the updated Caffeinated Cartoonist, Rough Ink, and Jittery Hand Brush Libraries).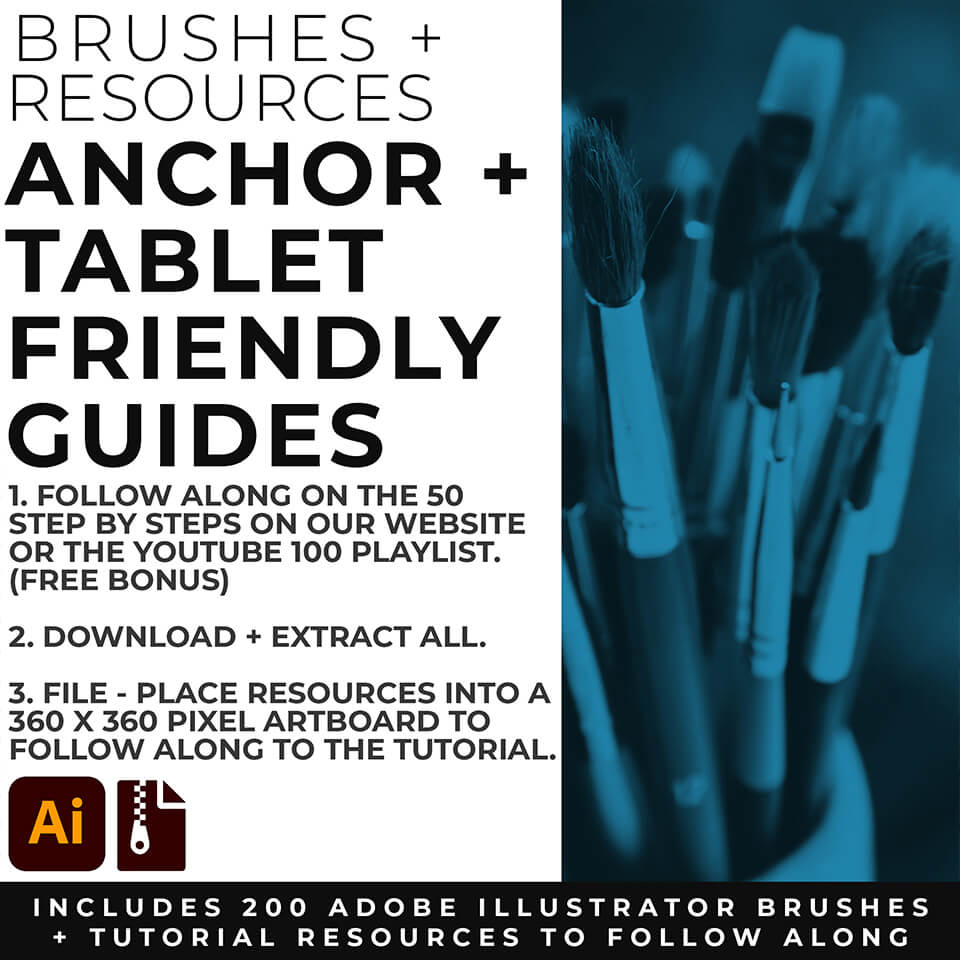 Free Bonus: I have included the  Anchor Point and Tablet Friendly Guides (as a Free Bonus) to Follow Along with the 50 Step by Steps on the Website or the 100 Beginner Tutorials Playlist on YouTube to Learn the Basics of Building, Applying Brushes, Editing, and Coloring in Adobe Illustrator. Follow Along with the Tutorials or use the Brushes with Your Own Artwork.

Download Textures
1. The Textures Folder is extremely easy to Use. Once you have Downloaded and Extracted the Folder it is Ready to Use. Pattern Fills need to be copied and pasted into the Artboard to use with Live Paint Bucket.
Live Paint
2. Select All. Object - Live Paint - Make. This will create a Live Paint Group. Select a Pattern Fills from the Swatches and click to color using Pattern Fills.
Our Texture Bundle is Designed to be Used with Your Own Vector Artwork.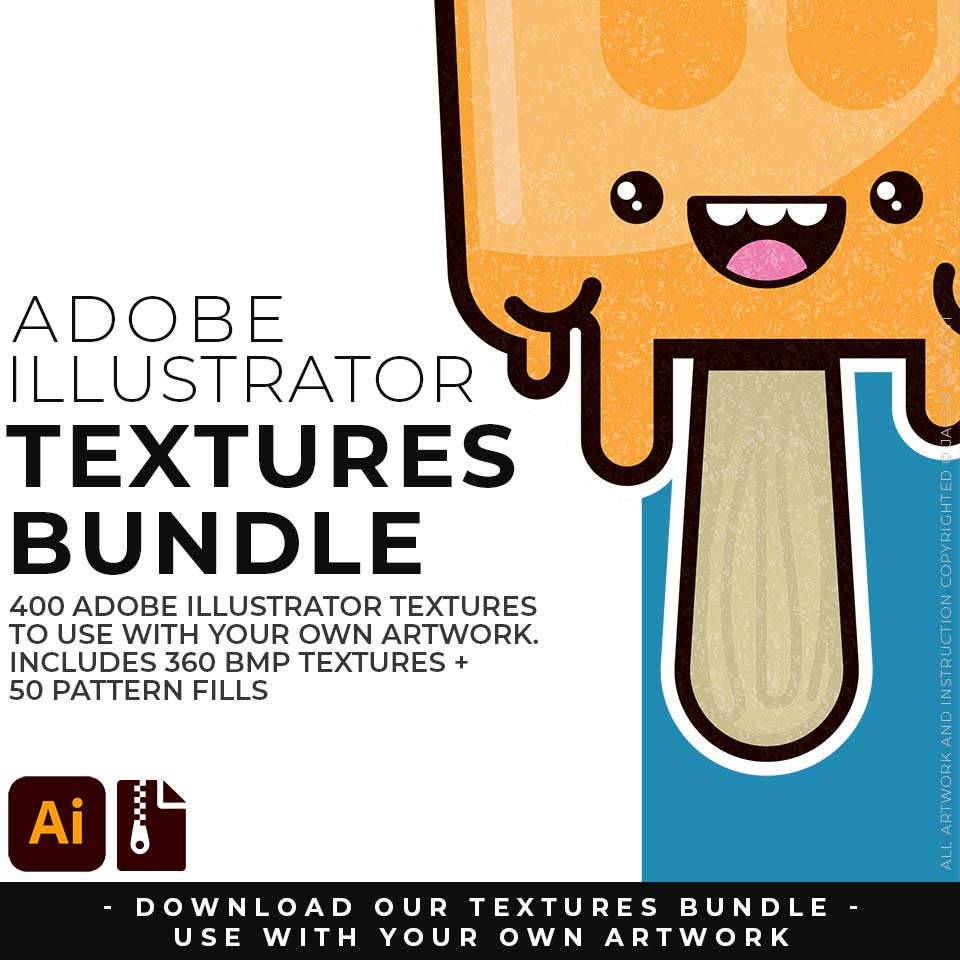 Download our (new) 400 Textures Bundle:
Download our 360 BMP Textures and 50 Pattern Fills to use with

Your Own Artwork in Adobe Illustrator.

Most of our 360 Textures are BMP Files designed for a Global Texture (compared to our Swatches and Pattern Fills for Spot Textures.) All you need to do is File - Place and Select the BMP Texture from the Folder to use in Adobe Illustrator.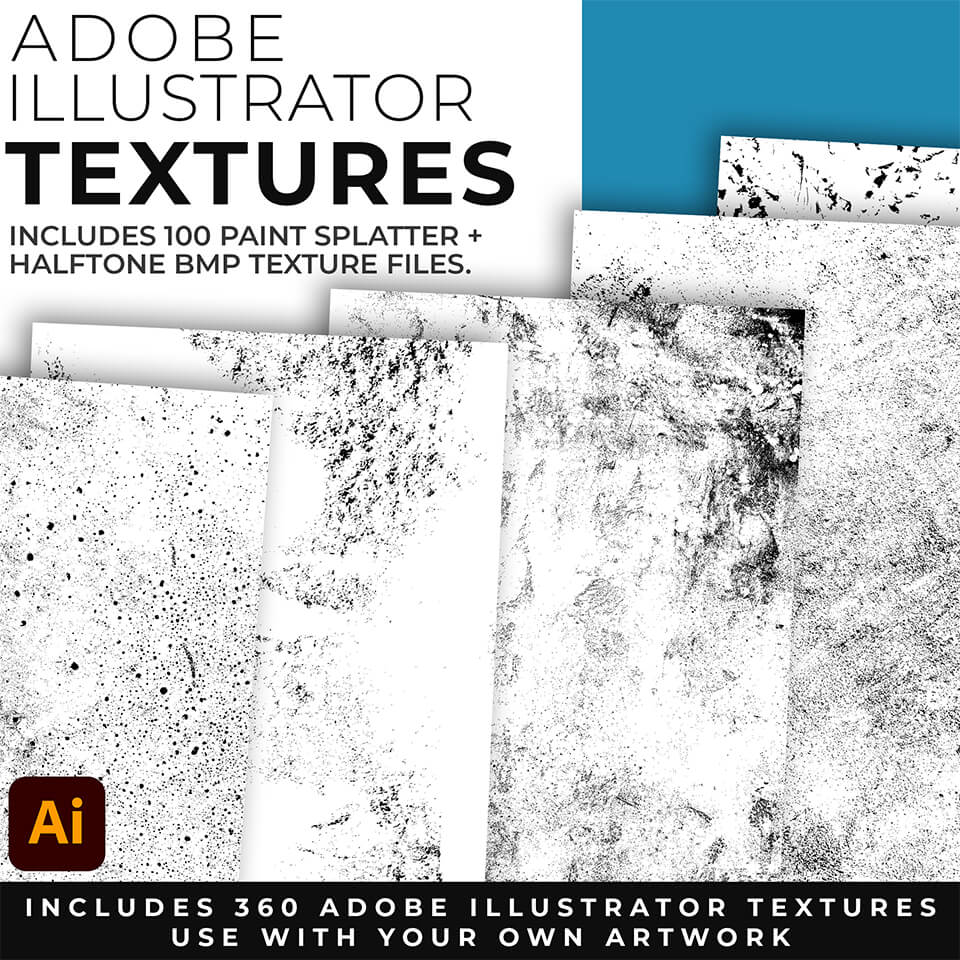 (New) 400 Texture Packs, BMP Textures, and Pattern Fills for Adobe Illustrator.
Most of the Files are designed as Global Patterns to use with your Color Swatches or Layers Masks. Use BMP Textures along with your Finished Artwork. If you are new to using BMP Files in Adobe Illustrator, they are extremely easy to use. 
Follow Along with the Getting Started Guide to change BMP Textures using Color Swatches.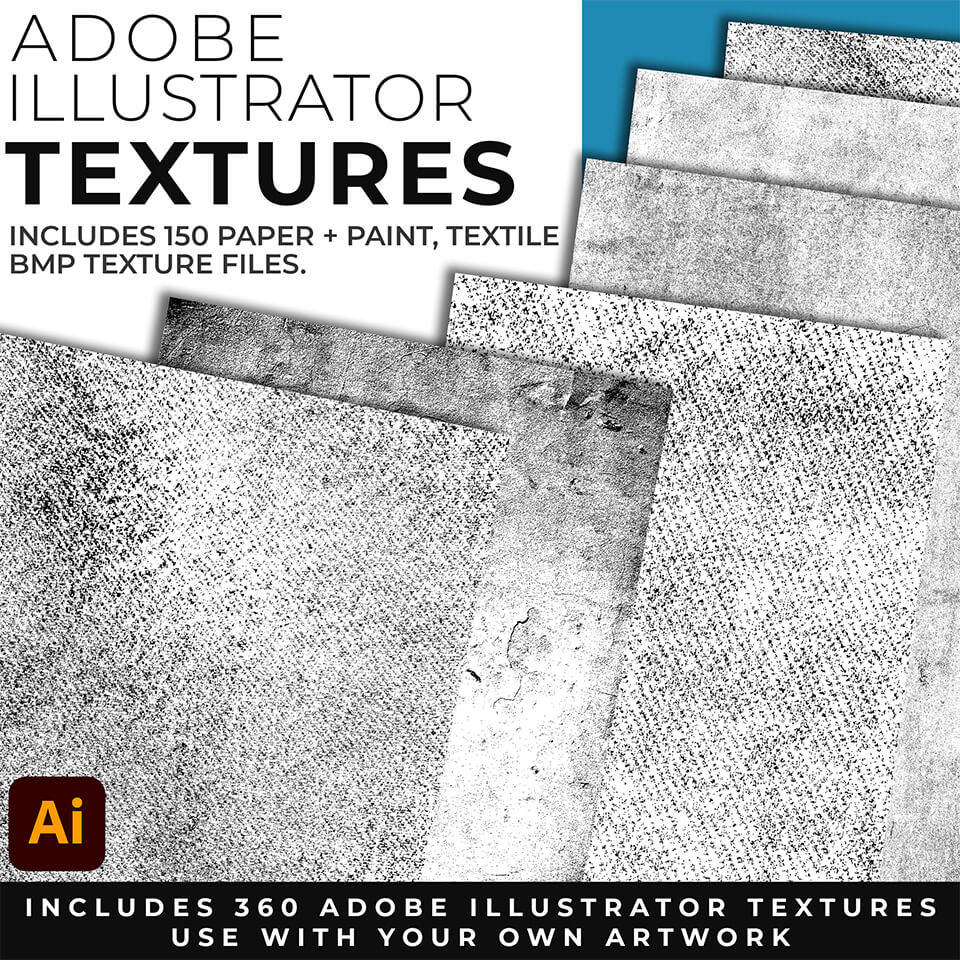 Use 150 Paper
BMP Textures
 to Apply for print using your Document Swatches to recolor the Textures. Combine Adobe Illustrator Textures along with your Color Swatches, Layer Blending Modes, and Transparency Slider for more subtle Paper and Paint Textures with your Own Artwork as you export to Instagram and your Portfolio. 
Follow Along with the Getting Started Guide to change BMP Textures using Blending Modes and Transparency.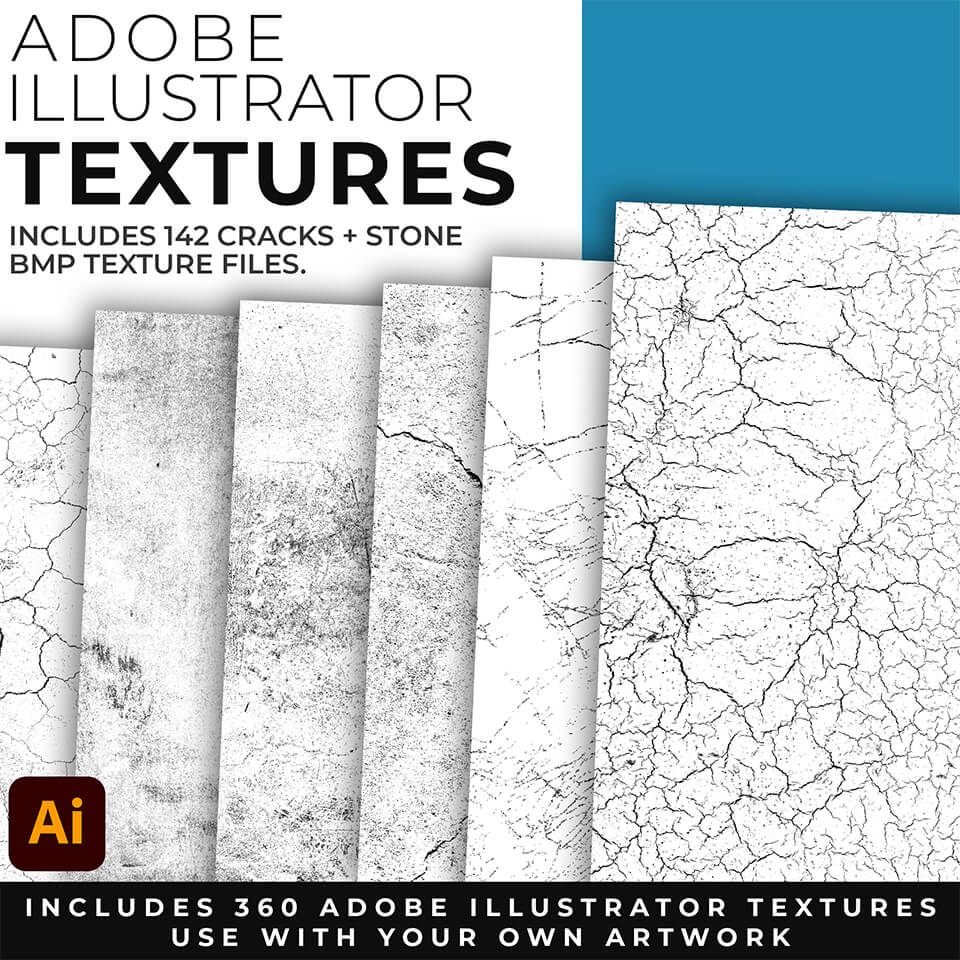 Includes 142 Cracks, Stone and Textures and Pattern Fills to Apply to your Own Artwork and Designs
. Use BMP Textures to apply Grunge and Distressing Effects to your Artwork and Designs by Applying simple Transparency Masks for Adobe Illustrator. Great for T-Shirts & Products using your Own Original Artwork. 
Follow Along with the Getting Started Guide to use BMP Textures and Opacity Masks.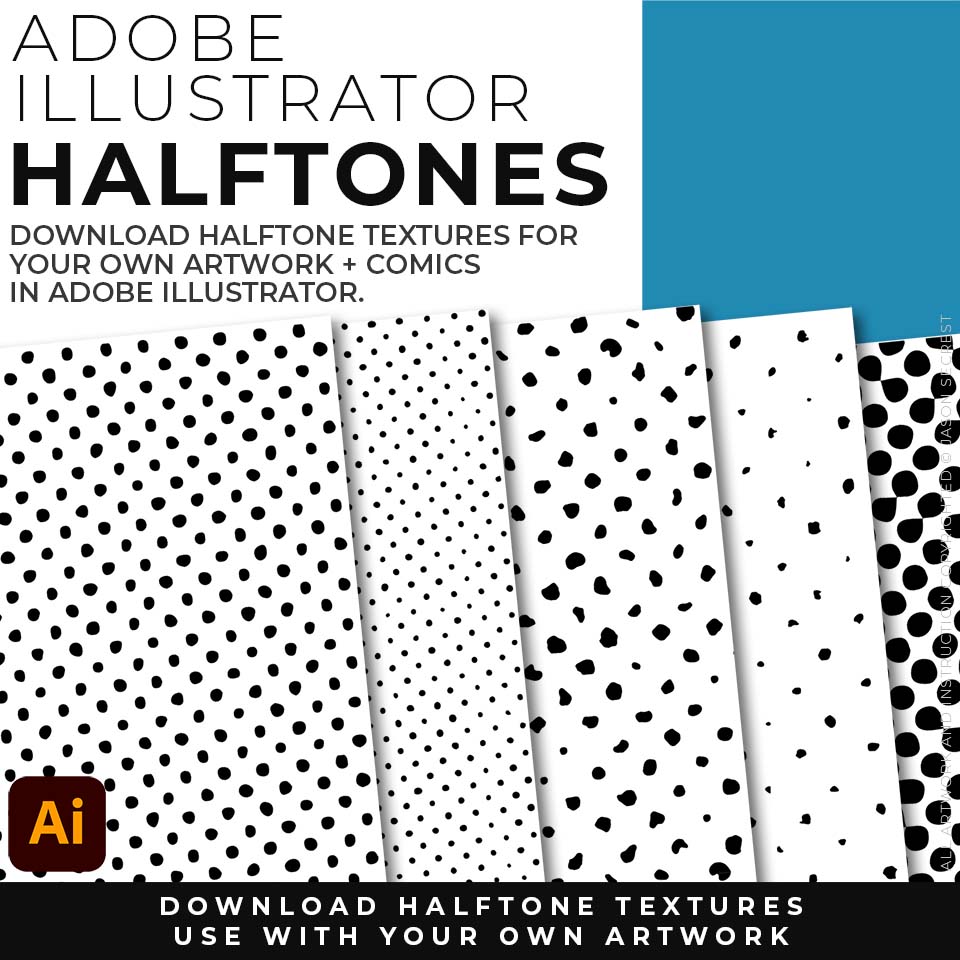 STEP #1: Download the Adobe Illustrator Halftone Folder. 
Downloading our textures is a straightforward process. All you have to do is Download and Extract All before using in Adobe Illustrator. Our Halftone Patterns are Adobe Illustrator Documents, so there is not any fancy way of opening up the file. Just double-click directly from the Folder or Open from Adobe Illustrator.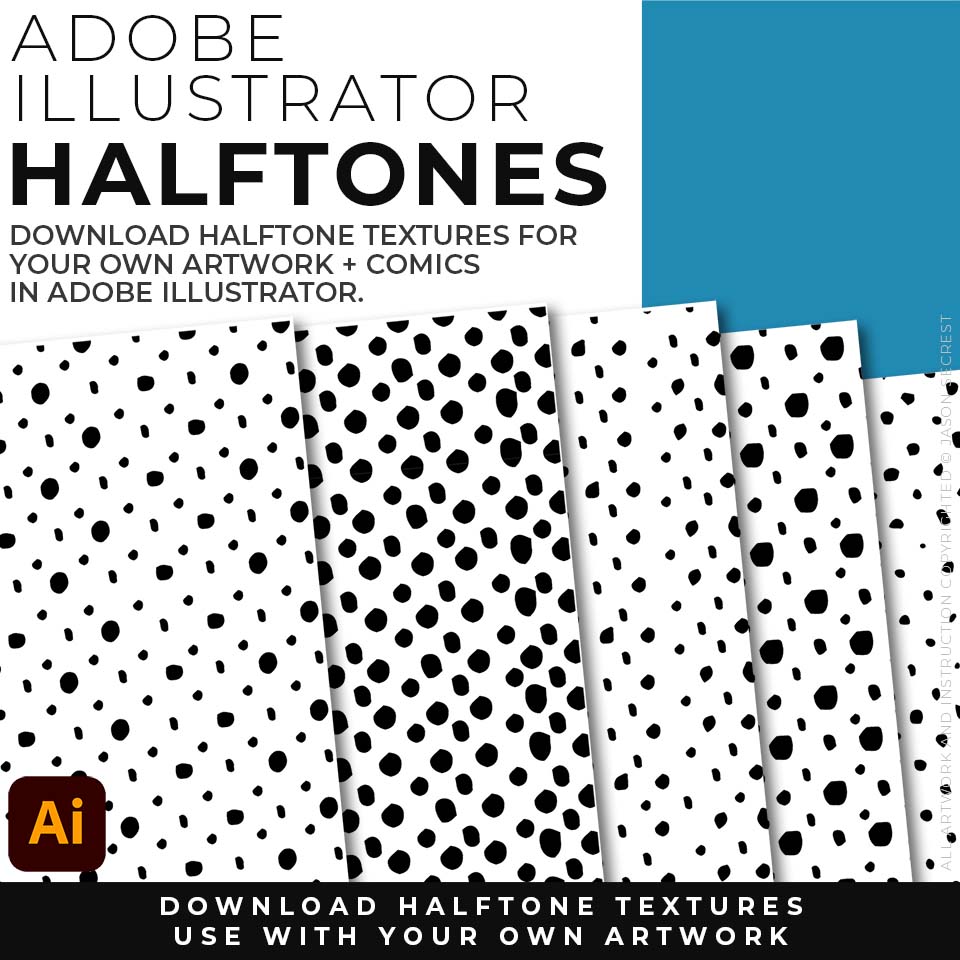 STEP #2 Copy-Paste Halftones into a Working Artboard:

 
The goal of this step is to get the Halftones into your design so they populate into your Swatches. All you have to do is Copy and Paste them over into the Artboard you are currently working on. The Halftones will automatically populate into the Swatches Panel for use.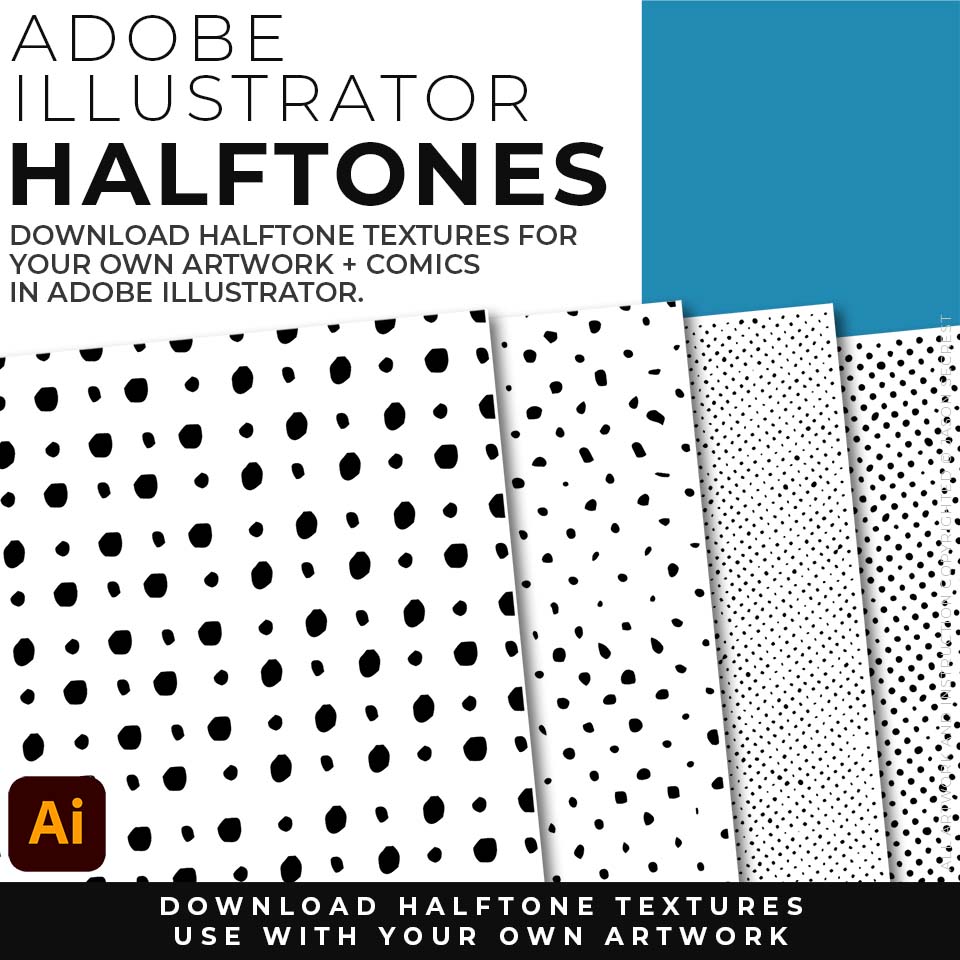 STEP #3: Apply Halftone using Basic Fills, Blob Brush, or the Knife Tool
. The Halftones will act just like any other Color Swatch. You can simply Select a Shape to apply a basic Fill. If you are new to Adobe Illustrator, I will recommend using the Live Paint Bucket to apply your Flat Color Layer first. The next step will be to duplicate the color layer to apply Halftones.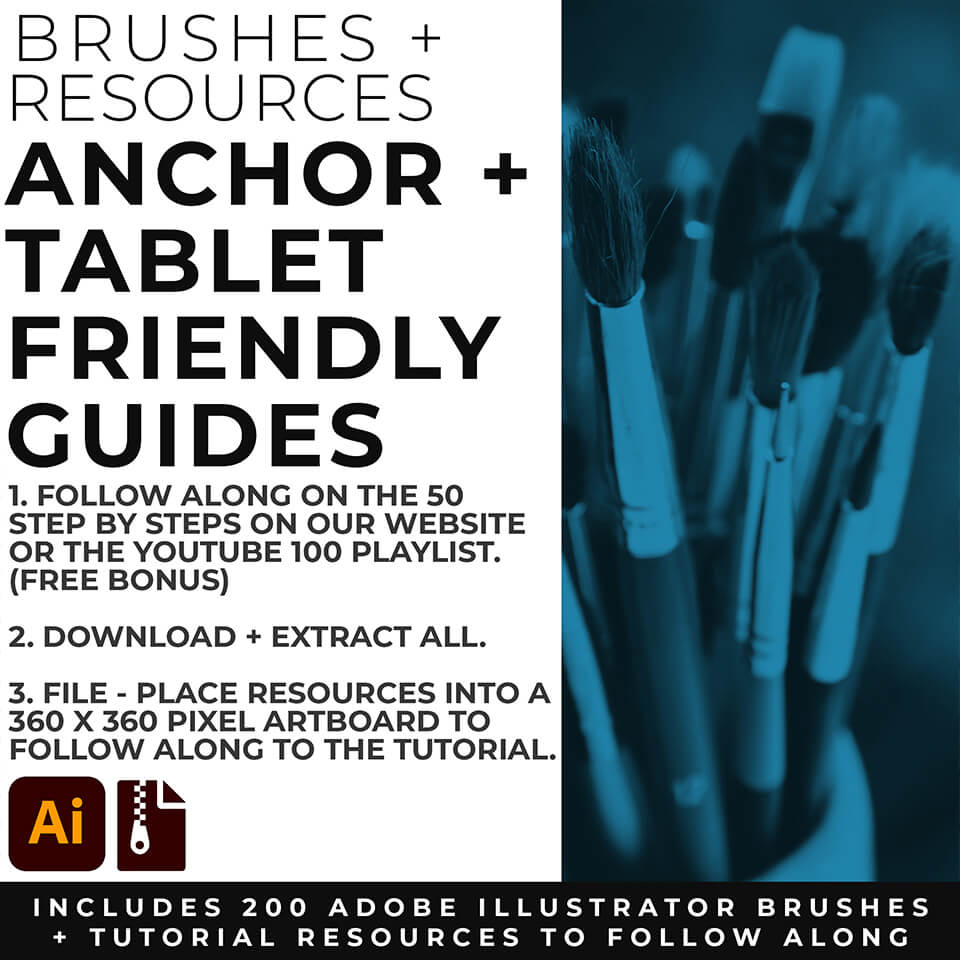 Free Bonus: I have included the  Anchor Point and Tablet Friendly Guides (as a Free Bonus) to Follow Along with the 50 Step by Steps on the Website or the 100 Beginner Tutorials Playlist on YouTube to Learn the Basics of Building, Applying Brushes, Editing, and Coloring in Adobe Illustrator. Follow Along with the Tutorials or use the Brushes with Your Own Artwork.
How to Color in Adobe Illustrator
One of the easiest and fastest ways of filling in your color is through Live Paint. Live Paint Bucket is a part of the Shape Builder Tools which builds the shapes in the exact shape you need it. Select All. Go up to Object - Live Paint - Make. If you have a grayed out Make it simply means you didn't have anything selected. I do recommend Deselecting by clicking on your artboard before clicking on a Color Swatch. *Remember Everything is still Selected so it will Color the Full Selection if you click on a Color Swatch with everything selected. Click on the Live Paint Bucket (K) and Click to Dump Color. It will feel like the Paint Bucket in Adobe Photoshop. 
Popular Adobe Illustrator Tutorials