ADOBE ILLUSTRATOR
PRE-WORKFLOW
DRAWING FOR ILLUSTRATOR
Our focus for this year has been giving you more open ended tutorials so you can add in more of your own artwork. One of the easiest options is to do your own drawing or trace of a similar subject while you are following the tutorials.
FROM PHOTO
The more we start from a photo and break it down, the more you can connect to the next step in your development. Use the process of breaking down a photo to practice using your own artwork following along the workflow or tutorial.
START FROM SCRATCH
I encourage you to start replacing the resource images and guides early on during the process. This so you can practice based on what you intend to bring in as a resource to Illustrator such as a photo, drawing or tracing.
LEARNING PHASE
The first Phase of the process is just to learn the program within the Linear Workflow Model. If you are still struggling and frustrated in Adobe Illustrator, I would recommend following along with the step by step along with the resources provided.
PRACTICE PHASE
The main goal is to transition into creating your own artwork as quickly as possible. The goal of this phase is to start replacing my resources with your own drawings or sketches. We do have Pre-Workflow and Drawing for Illustrator lessons to follow to start from your own drawing.
EFFICIENCY MODEL
We have 9-15 Hours within a Tool-Based Workflow. The focus is to go through the Growth Models to hit a level of proficiency to start adding on keyboard shortcuts and some speed into your workflow. This will come with time in the program. Don't worry about keyboard shortcuts if you are still struggling with navigation.
CREATE YOUR OWN
Once you have completed all of the step by step lessons, I would move directly into creating your own artwork using the Tool-Based Workflow. The next step in the process is to bring your own artwork through the Text and Shape-Based Design lessons to get completed pieces for your portfolio.
Drawing Template + Settings
The Drawing Templates are designed to be done in Adobe Photoshop since there is more of a chance that you have the full Adobe Creative Cloud.
Digital Drawing Modification for Tutorials: All you are going to need is a Drawing Program of your choice. The program should allow you to insert or embed a photo to use as a reference. Most prams these days allow for layers and the ability to lock the layers out. The most basic process of a photo layer, a sketch layer and use of brushes will work if you are intending on using or practicing another Drawing Program or App.
Paper Drawing Modification for Tutorials: All you are going to need is a Paper, a Photo on your Screen and a Camera Phone/Scanning App. Follow along using your own drawing method to a level of completion that you feel comfortable with in Illustrator. Take a Photo or use a Scanning App to digitize the drawing. If you have a scanner you can simple scan it in using the default settings.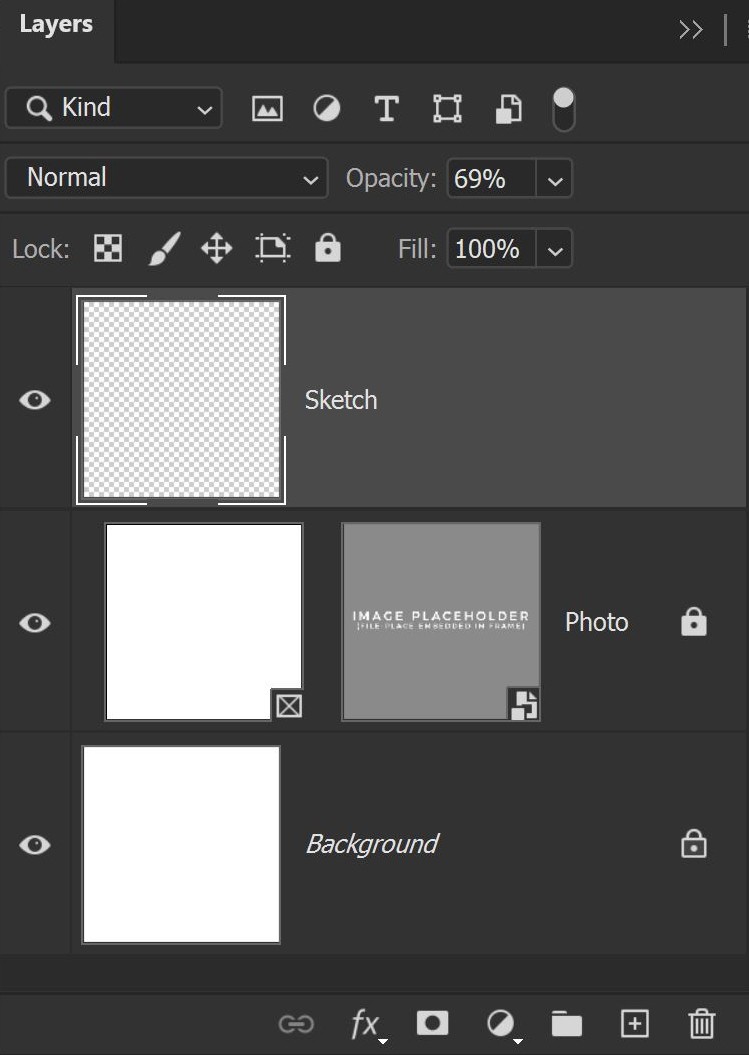 From Photos
Since the start of the year, we have added more content from photos. You can remove any of my characters for your own drawings or sketches at any point or when you feel comfortable. Find a photo or subject matter that is the same if you are still learning.
Layers + Locking Out
Most of the drawing programs will allow you to lock out layers and bring in photos. The main troubleshooting area is having your sketch on a separate layer and have your photo layer locked out.
The main push is to get you creating your own artwork while you are learning the program. Our goal is to give you the option to follow along with the resources provided, but give you the next step of starting from a photo and doing your own drawing, sketch or trace.
Start from Photo

Do your own Drawing /Tracing

Use Drawing Program or App you intend on using

Digital or Paper

Practice Digital Drawing

Use your Own Hand or Style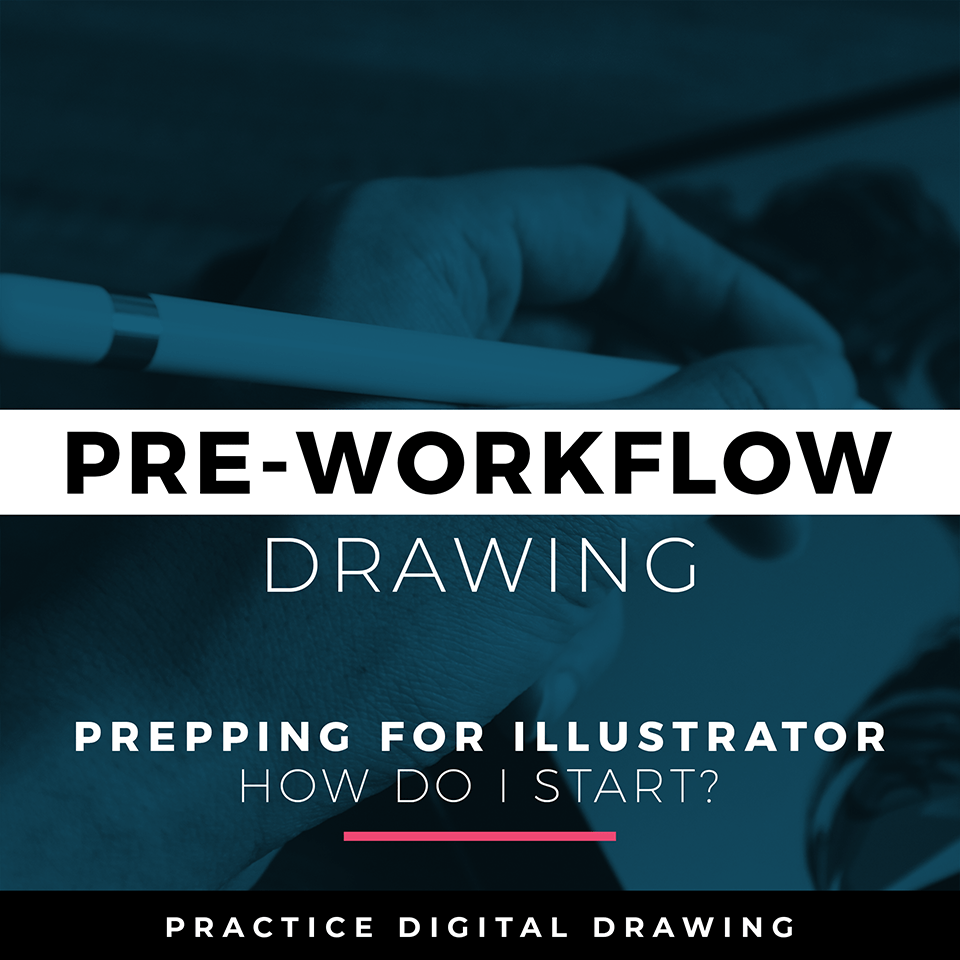 PRE-WORKFLOW
What is your process before Adobe Illustrator? Are you planning on using a Photo, Drawing or Trace? The more of the early steps we do together, the more time you get to problem solve and plan for Adobe Illustrator.
PAPER DRAWING
I always encourage you to stay with what you are the most confident in or what will give you the best results. If you are drawing on paper, I want you to stay drawing on paper while you are learning the program.
DIGITAL DRAWING
Digital Drawing? Some of you are looking to practice your digital drawing and sketching. You may use any Drawing or Sketching Program during this step. We are just using a Photo, some Layers and a Brush.
Top notch video as usual man. Cheers!Made by Mighty
I really love your channel, thanx for your tutorial really helpful 🙂 Sara Abdalla • 1 year ago
First time dive into Illustrator. This was great, learned a ton! ThanksPhilippe Lachenal
Such a cool drawing ! My favorite in this series !!!! Espermaschine • 1 year ago
I appreciate your videos. I have been an illustrator user for years and have my own ways of doing things. It's great to see other ways of using tools and learning tricks I didn't know were available! It's also good to see you doing the same thing as me in other instances, confirming I'm on the right track!Andy Zenz
Awesome tutorial! I don't think I've picked up something so easily from someone who knows what they are doing. I managed to draw my first vector art and it was a joy! Great work keep it up!blitz145
Great job Jason, you make it look so easy. And it actually was. Thumbs up!Little Richard • 5 months ago
That was a fun tutorial. I really enjoyed it. Thanks for such a detailed, easy to follow tutorial! Daniel Huckabay • 1 year ago
Love your video thanks so much. you blow Lynda.com out of the water!!!!Steve Yensel
Brilliant video. So much great info packed in here. I'm just getting started drawing cartoons with my Wacom tablet, and this was a huge help. Thumbs up and thanks!Dorian Staten
Wow Thanks Jason…was really struggling with making images with basic shapes. Your tutorial is helping me out!!Kishor Rajani
thanks a lot you are really one of my favorites, I like the steps you give us, and I'm so thankful for that effort you do for helping us :)Wessam Lotfi
Keep up the good work Jason. I've been doing Lynda.com tutorials for a few months now and I got more out of your videos than what I've received at Lynda. Keep it up and Thank You!!bobby jacobs • 1 year ago
These tutorials are amazing. Just started using illustrator and really glad I found your channel. The only videos that explain everything step by stepAida Stan
You are definitely one of the best teachers I've found dealing with start to finish creative process. Great work!!!Jasen Fisher
Thank you loads! Compared to other tutorials, yours are just really well-explained and easy-to-follow. Can totally see that you've got a passion for what you're doing and that's just wonderful! 🙂 Keep it up, you're doing an amazing job. Yulia Kachurova
Thank you so much man, I loved the way you explain this, I spent days looking for a good tutorial vid, thanks a lot, gonna keep watching your videos!!!Karel Marccenaro